Florida Building Safety Act Pro Tips Series
Pro Tip 3 "Bookkeeping & Compliance"
SIRS - Bookkeeping for Success 101 
SIRS - Bookkeeping for Success 101 
Official records of the condominium and cooperative association include structural integrity reserve studies, financial reports of the association, and a copy of the inspection reports.
Structural integrity reserve studies must be maintained for at least 15 years after the study is completed. In addition, inspection reports and any other inspection report relating to a structural or life safety inspection of condominium property must be maintained for 15 years after receipt of such report.
We will discuss how SIRS and MS inspections will affect buying selling and insuring condominiums in an upcoming video.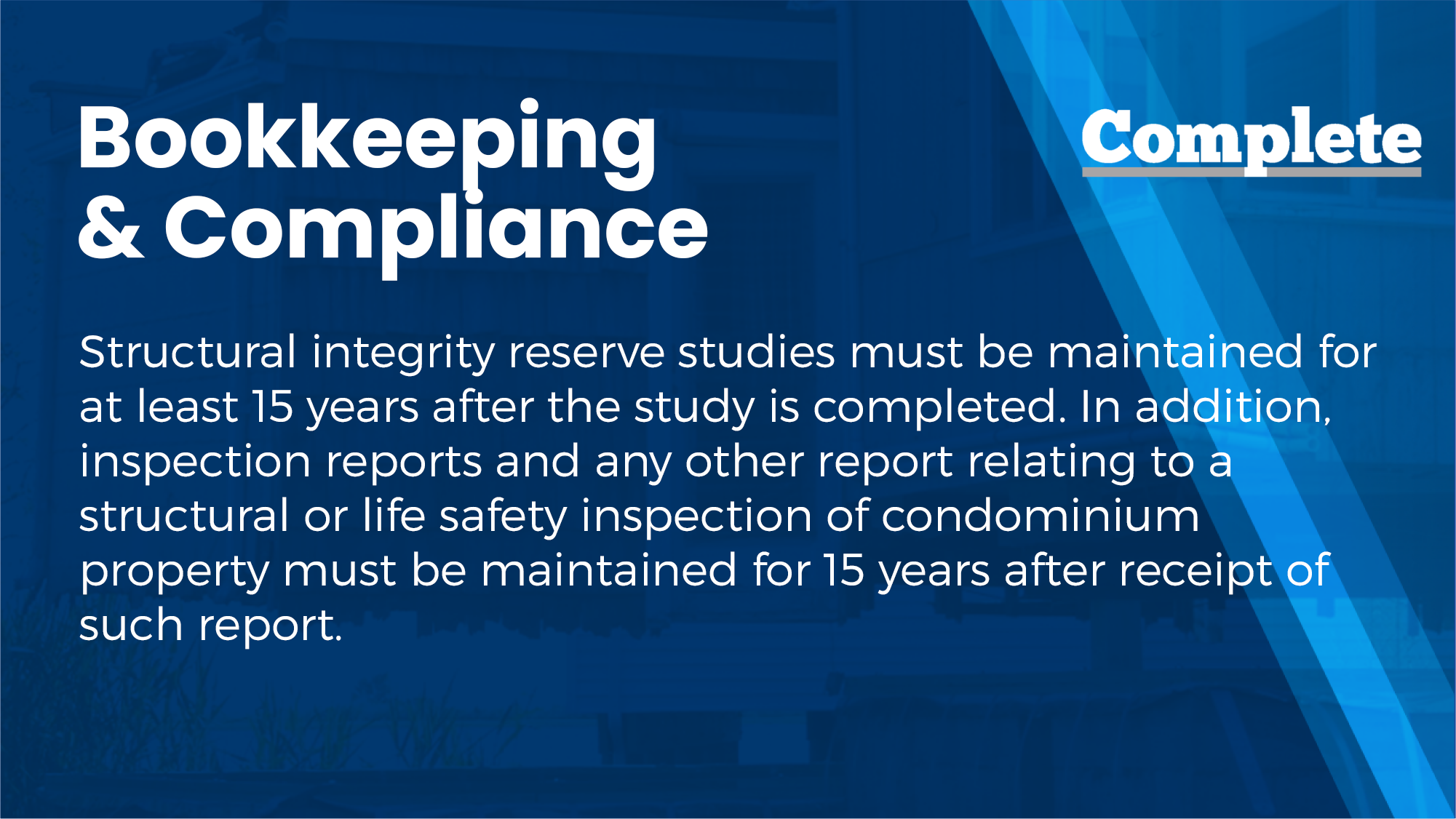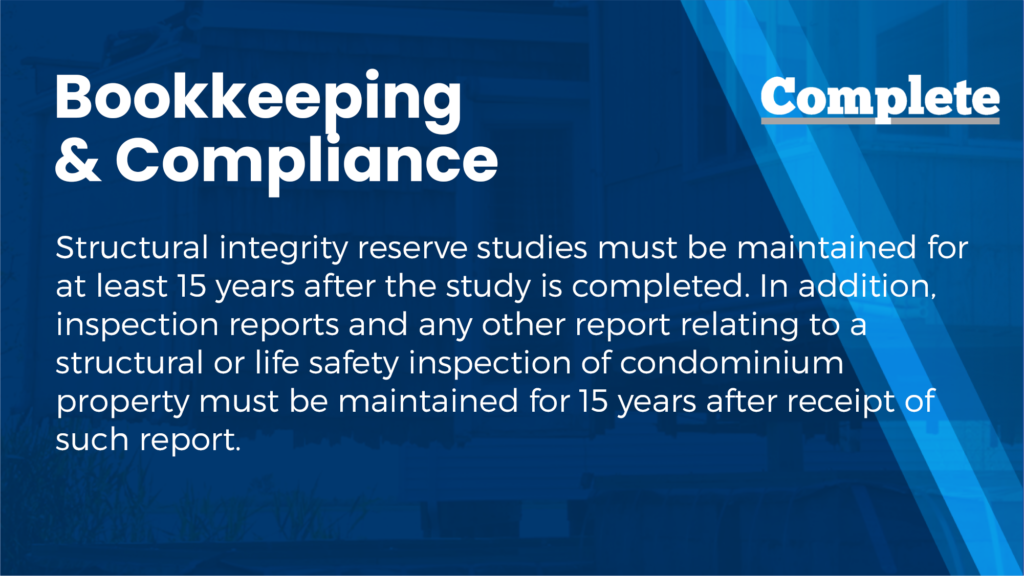 Effective December 31, 2024, associations may NOT vote to waive or reduce fully funding reserves for SIRS building components. They are also prohibited from voting to use such reserves for any other purpose.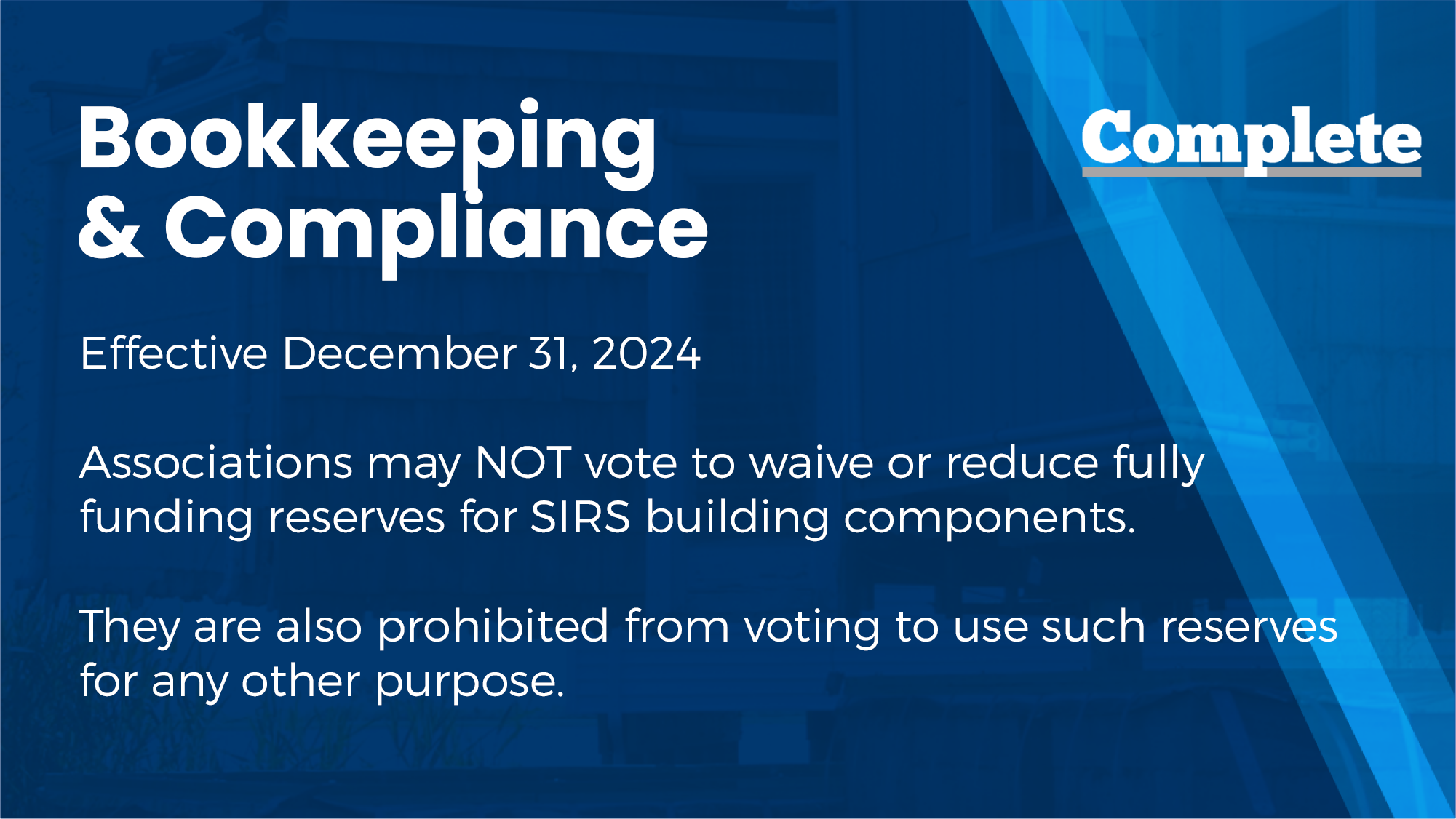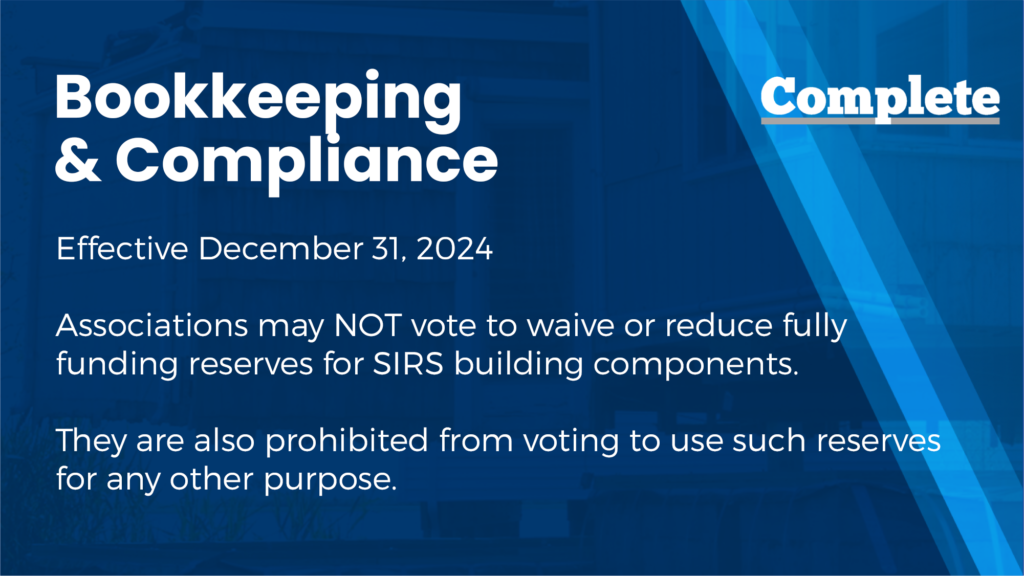 "Team Complete has a proven history of providing industry-leading expertise for clients in South Florida and the Gulf Coast including areas of Punta Gorda, Miami, Pompano Beach, Palm Beach, Naples and Port Charlotte."
JURISDICTION OF DIVISION OF CONDOMINIUMS, TIMESHARES, AND MOBILE HOMES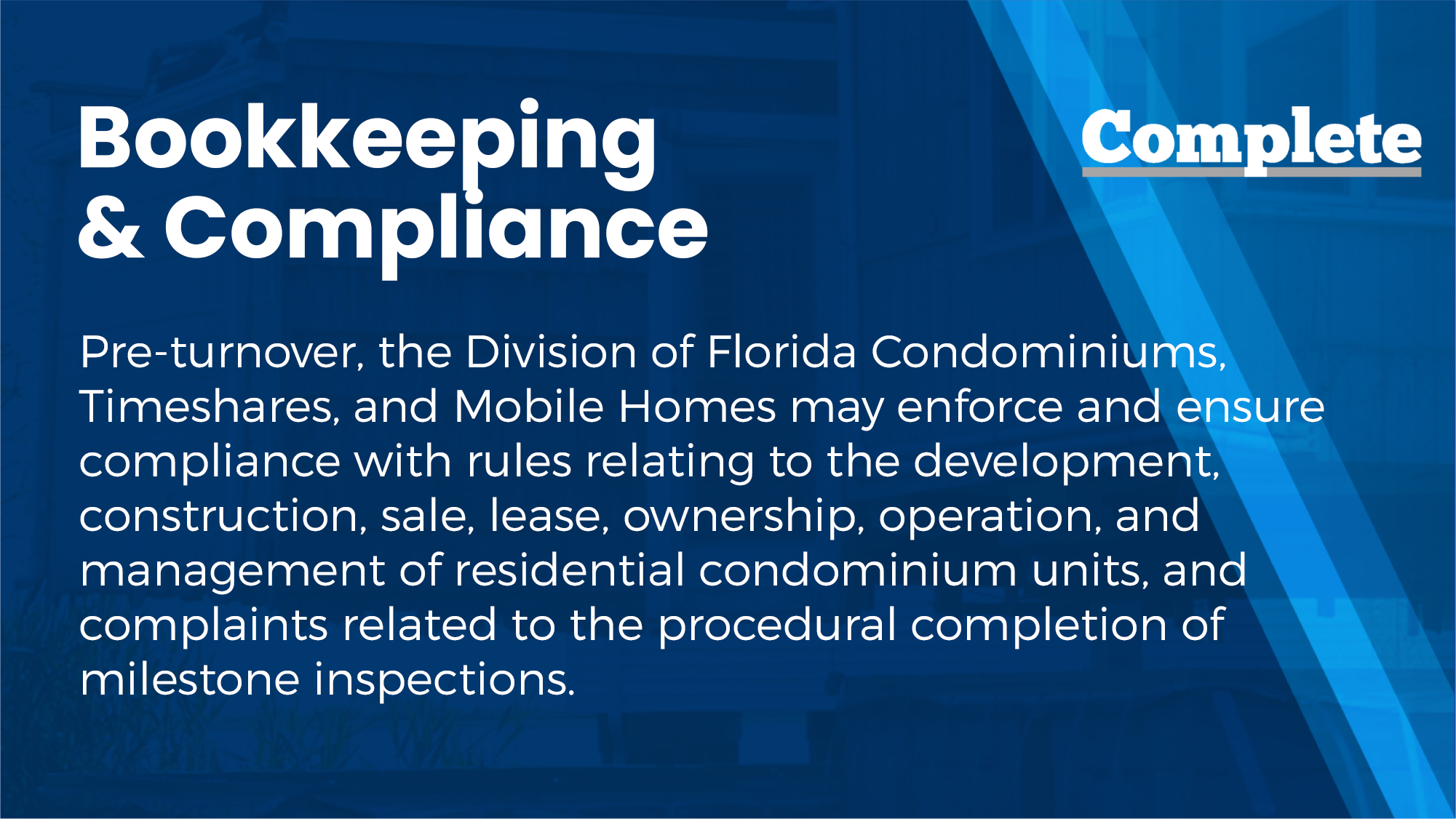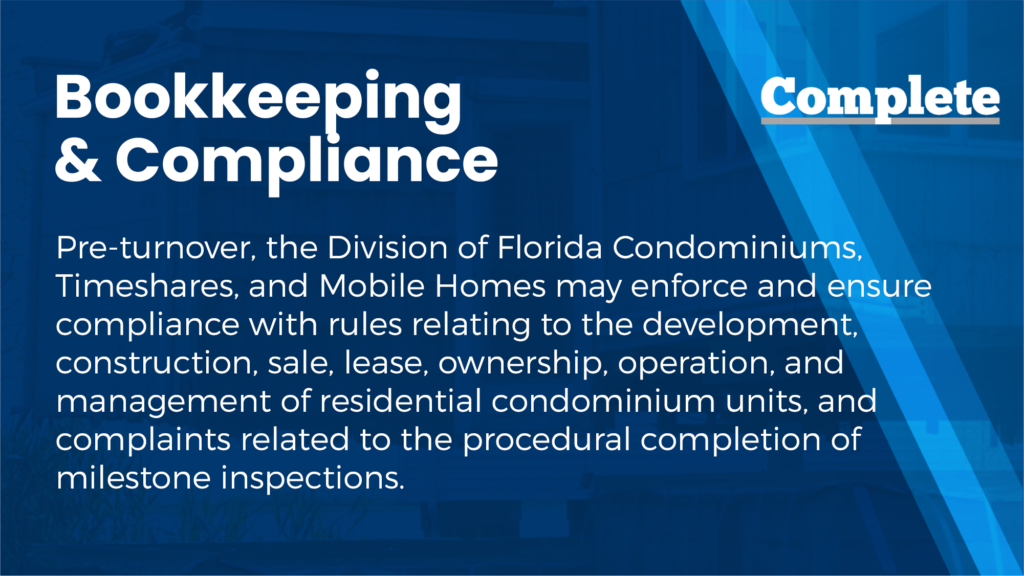 Pre-turnover, the Division of Florida Condominiums, Timeshares, and Mobile Homes may enforce and ensure compliance with rules relating to the development, construction, sale, lease, ownership, operation, and management of residential condominium units, and complaints related to the procedural completion of milestone inspections.
After turnover has occurred, the Division has jurisdiction to investigate complaints related only to financial issues, elections, and the maintenance of and unit owner access to association records, and the procedural completion of structural integrity reserve studies.

We can reasonably expect this same division to be responsible for auditing SIRS compliance.
As stated in our previous video "Pro Tip #1", Be prepared to have your SIRS contributions audited in 2026.
This will most likely be conducted on an oversight portal. You can reasonably expect a deadline to upload a copy of the sirs report with funding chart, the most recent bank account statement and a QB report on the reserves account as soon as Friday, January 2, 2026 .
We are recommending that our clients setup a new bank account for SIRS funds.
We encourage you to designate "SIRS" in the account name. Make sure that SIRS is on the check, statements and the book keeping chart of accounts.
This should simplify the audit process. A SIRS report with the funding chart, The most recent SIRS Bank Account Statement, and a QuickBooks report on the SIRS account should meet the requirements with minimal effort.
For a full breakdown of the FL Building Safety Act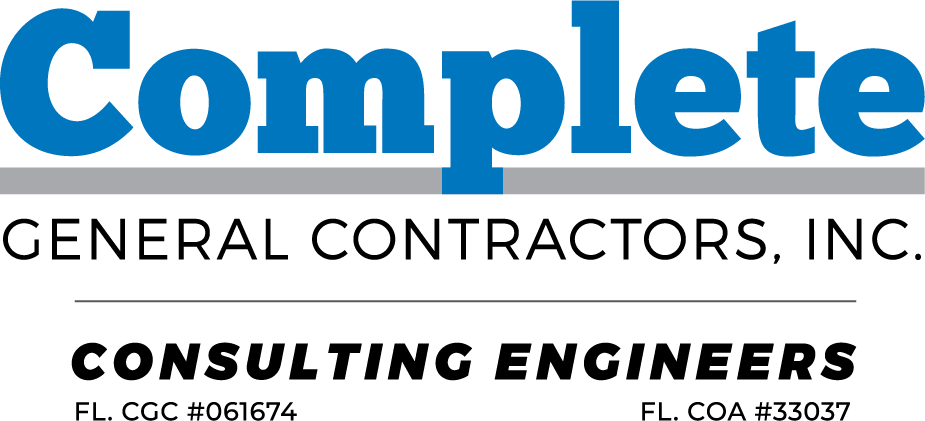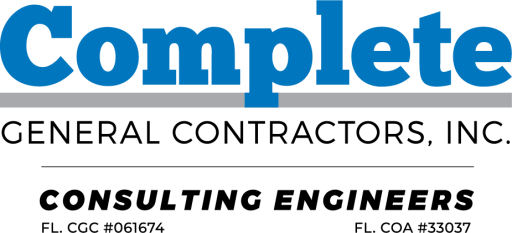 Take the first step towards compliance.
Check out the rest of the Pro Tips Series