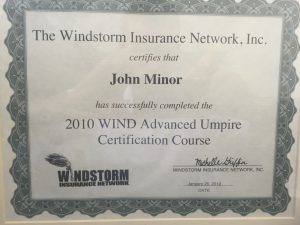 An umpire serves as the neutral on an appraisal panel between two appraisers, each designated by opposing sides in the disagreement. The umpire's role is to resolve any differences between the parties.
In the process of appraising the value of loss for a damaged property, having a thorough and fair appraisal report from each party is usually enough to come to an agreement. Both parties sign off, the insurance company cuts a check, and work can begin on restoring the property.
However, occasionally the reports from the homeowner and the insurance company's appraisers can have one or more major discrepancies. If an impasse is reached, many policies and state regulations allow for a third-party, independent umpire appraiser to be brought in to make an objective judgment.
Rather than engaging in prolonged and expensive litigation, this alternative dispute resolution process can save both parties significant money and time. Complete has a long-standing record serving as the appraiser for homeowners and insurance companies, as well as the umpire in a disputes between the parties.
Whether the damage is due to fire, flood, wind storm, hail or other natural phenomena, Complete has the experience working on residential, commercial, and industrial properties from every angle to know how to resolve discrepancies and disagreements. We are intimately familiar with the actual time and realistic costs of materials it takes to bring your property back to its original state.
If your home or business has suffered damage, getting an appraisal early in the process can save you time and money, ensuring that all of the unique circumstances of your case have been considered and that you get everything you are entitled to under your insurance policy.
While policies vary by state and company, the following language from the National Flood Insurance Program Dwelling Form on FEMA.gov is a good example of how appraisals and assignment of an umpire are typically handled:
If you and we fail to agree on the actual cash value or, if applicable, replacement cost of your damaged property to settle upon the amount of loss, then either may demand an appraisal of the loss. In this event, you and we will each choose a competent and impartial appraiser within 20 days after receiving a written request from the other. The two appraisers will choose an umpire. If they cannot agree upon an umpire within 15 days, you or we may request that the choice be made by a judge of a court of record in the State where the covered property is located. The appraisers will separately state the actual cash value, the replacement cost, and the amount of loss to each item. If the appraisers submit a written report of an agreement to us, the amount agreed upon will be the amount of loss. If they fail to agree, they will submit their differences to the umpire. A decision agreed to by any two will set the amount of actual cash value and loss, or if it applies, the replacement cost and loss.

Each party will:

Pay its own appraiser; and
Bear the other expenses of the appraisal and umpire equally.

Should you need the services of an experienced, impartial appraisal umpire, call the professionals at Complete. We are experts in appraisal and mediation — we've been in business since 1997, and have gotten the best possible results for hundreds of clients.

Complete Contracting offers insurance claims umpire services Nationwide, with a focus on Gulf Coast States of Florida, Texas, Louisiana, Mississippi and Alabama.