Flood Warning
Wisconsin
State Weather Alerts
Flood Warning
River Forecasts Take Into Account Both Observed And Forecast Precipitation. The Flood Warning Continues For The Mississippi River At Wabasha. * From Tuesday Morning Until Further Notice...or Until The Warning Is Cancelled. ...Read More.
Effective: March 31, 2020 at 7:00amExpires: March 31, 2020 at 11:44amTarget Area: Buffalo
Flood Warning
River Forecasts Take Into Account Both Observed And Forecast Precipitation. The Flood Warning Continues For The Mississippi River At Mcgregor. * From Late Wednesday Night Until Further Notice...or Until The Warning Is Cancelled. ...Read More.
Effective: April 2, 2020 at 1:00amExpires: March 31, 2020 at 11:44amTarget Area: Crawford; Grant
Flood Warning
.minor Flooding Is Expected Along Portions Of The Mississippi River...with Moderate Flooding Possible. River Forecasts Take Into Account Both Observed And Forecast Precipitation. The National Weather Service In La Crosse Wi Has Issued A * Flood Warning For ...Read More.
Effective: April 2, 2020 at 1:00amExpires: March 31, 2020 at 8:39amTarget Area: Buffalo; Trempealeau
Flood Warning
.minor Flooding Is Expected Along Portions Of The Mississippi River...with Moderate Flooding Possible. River Forecasts Take Into Account Both Observed And Forecast Precipitation. The National Weather Service In La Crosse Wi Has Issued A * Flood Warning For ...Read More.
Effective: April 2, 2020 at 7:00amExpires: March 31, 2020 at 8:39amTarget Area: La Crosse; Vernon
Flood Warning
...the Flood Warning Continues For The Following Rivers In Wisconsin...illinois... Fox River Lower Near New Munster Affecting Lake And Kenosha Counties. Rock River At Afton Affecting Winnebago And Rock Counties. Fox River Near Berlin Affecting Green Lake County. ...Read More.
Effective: March 30, 2020 at 8:39pmExpires: March 31, 2020 at 8:45amTarget Area: Columbia
Flood Warning
...the Flood Warning Continues For The Following Rivers In Wisconsin...illinois... Fox River Lower Near New Munster Affecting Lake And Kenosha Counties. Rock River At Afton Affecting Winnebago And Rock Counties. Fox River Near Berlin Affecting Green Lake County. ...Read More.
Effective: March 30, 2020 at 8:39pmExpires: March 31, 2020 at 8:45amTarget Area: Green Lake
Flood Warning
...the Flood Warning Continues For The Following Rivers In Wisconsin...illinois... Fox River Lower Near New Munster Affecting Lake And Kenosha Counties. Rock River At Afton Affecting Winnebago And Rock Counties. Fox River Near Berlin Affecting Green Lake County. ...Read More.
Effective: March 30, 2020 at 8:39pmExpires: March 31, 2020 at 8:45amTarget Area: Rock
Flood Warning
...the Flood Warning Continues For The Following Rivers In Wisconsin...illinois... Fox River Lower Near New Munster Affecting Lake And Kenosha Counties. Rock River At Afton Affecting Winnebago And Rock Counties. Fox River Near Berlin Affecting Green Lake County. ...Read More.
Effective: March 30, 2020 at 8:39pmExpires: April 1, 2020 at 1:00amTarget Area: Kenosha
Flood Warning
...the Flood Warning Continues For The Following Rivers In Minnesota And Wisconsin... Cottonwood River At New Ulm Affecting Brown County Cottonwood River Above Springfield Affecting Brown County Minnesota River Near Jordan Affecting Carver And Scott Counties Minnesota River At Savage Affecting Dakota...hennepin And Scott ...Read More.
Effective: April 2, 2020 at 7:00amExpires: April 1, 2020 at 2:28amTarget Area: Pierce
Flood Warning
...the Flood Warning Continues For The Following Rivers In Minnesota And Wisconsin... Cottonwood River At New Ulm Affecting Brown County Cottonwood River Above Springfield Affecting Brown County Minnesota River Near Jordan Affecting Carver And Scott Counties Minnesota River At Savage Affecting Dakota...hennepin And Scott ...Read More.
Effective: March 30, 2020 at 8:30pmExpires: April 4, 2020 at 10:00amTarget Area: Buffalo; Pepin
Flood Warning
River Forecasts Take Into Account Both Observed And Forecast Precipitation. The Flood Warning Continues For The Yellow River At Necedah. * Until Friday Afternoon...or Until The Warning Is Cancelled. * At 7:00 Pm Monday The Stage Was 14.7 Feet. ...Read More.
Effective: March 30, 2020 at 8:22pmExpires: April 3, 2020 at 4:00pmTarget Area: Juneau
Flood Warning
River Forecasts Take Into Account Both Observed And Forecast Precipitation. The Flood Warning Continues For The Wisconsin River At Castle Rock Dam. * At 8:10 Pm Monday The Flow Was 33305 Cfs. * Flood Stage Is 30000 Cfs. ...Read More.
Effective: March 30, 2020 at 8:19pmExpires: April 7, 2020 at 8:30amTarget Area: Adams; Juneau
Flood Warning
The National Weather Service In Green Bay Has Extended The * Flood Warning For... Southern Marinette County In Northeastern Wisconsin... * Until 700 Am Cdt Tuesday. * At 211 Pm Cdt, The Dam Operator At The Potato Rapids Dam Along The Peshtigo River Indicated High Flows Continued Downstream From The ...Read More.
Effective: March 30, 2020 at 10:30amExpires: March 31, 2020 at 1:30amTarget Area: Marinette
Flood Warning
...the National Weather Service In Green Bay Wi Has Issued A Flood Warning For The Following Rivers In Wisconsin... Wisconsin River Below Biron Reservoir Affecting Wood County. The National Weather Service In Green Bay Has Issued A * Flood Warning For The Wisconsin River Below Biron Reservoir. ...Read More.
Effective: March 30, 2020 at 1:52pmExpires: March 31, 2020 at 5:00amTarget Area: Wood
Flood Warning
...the National Weather Service In Green Bay Wi Has Issued A Flood Warning For The Following Rivers In Michigan...wisconsin... Menominee River Near Mcallister Affecting Menominee And Marinette Counties. For The Menominee River...including Mcallister...minor Flooding Is Forecast. ...Read More.
Effective: March 30, 2020 at 1:15pmExpires: March 31, 2020 at 4:15amTarget Area: Marinette
Flood Warning
...the Flood Warning Continues For The Following Rivers In Wisconsin... Pike River Near Amberg Affecting Marinette County. Peshtigo River Near Porterfield Affecting Marinette County. Oconto River Above Oconto Affecting Oconto County. Wolf River At New London Affecting Winnebago, Outagamie And ...Read More.
Effective: March 30, 2020 at 10:30amExpires: March 31, 2020 at 1:30amTarget Area: Marinette
Flood Warning
...the Flood Warning Continues For The Following Rivers In Wisconsin... Pike River Near Amberg Affecting Marinette County. Peshtigo River Near Porterfield Affecting Marinette County. Oconto River Above Oconto Affecting Oconto County. Wolf River At New London Affecting Winnebago, Outagamie And ...Read More.
Effective: March 30, 2020 at 10:30amExpires: March 31, 2020 at 1:30amTarget Area: Marinette
Flood Warning
...the Flood Warning Continues For The Following Rivers In Wisconsin... Pike River Near Amberg Affecting Marinette County. Peshtigo River Near Porterfield Affecting Marinette County. Oconto River Above Oconto Affecting Oconto County. Wolf River At New London Affecting Winnebago, Outagamie And ...Read More.
Effective: March 30, 2020 at 10:30amExpires: March 31, 2020 at 1:30amTarget Area: Oconto
Flood Warning
...the Flood Warning Continues For The Following Rivers In Wisconsin... Pike River Near Amberg Affecting Marinette County. Peshtigo River Near Porterfield Affecting Marinette County. Oconto River Above Oconto Affecting Oconto County. Wolf River At New London Affecting Winnebago, Outagamie And ...Read More.
Effective: March 30, 2020 at 10:30amExpires: March 31, 2020 at 1:30amTarget Area: Outagamie; Shawano; Waupaca
Flood Warning
...the Flood Warning Continues For The Following Rivers In Wisconsin... Pike River Near Amberg Affecting Marinette County. Peshtigo River Near Porterfield Affecting Marinette County. Oconto River Above Oconto Affecting Oconto County. Wolf River At New London Affecting Winnebago, Outagamie And ...Read More.
Effective: March 30, 2020 at 10:30amExpires: March 31, 2020 at 1:30amTarget Area: Outagamie; Waupaca; Winnebago
Flood Warning
...the Flood Warning Continues For The Following Rivers In Wisconsin... Pike River Near Amberg Affecting Marinette County. Peshtigo River Near Porterfield Affecting Marinette County. Oconto River Above Oconto Affecting Oconto County. Wolf River At New London Affecting Winnebago, Outagamie And ...Read More.
Effective: March 30, 2020 at 10:30amExpires: March 31, 2020 at 1:30amTarget Area: Shawano; Waupaca
Flood Warning
...the Flood Warning Continues For The Following Rivers In Wisconsin... Wisconsin River Below Stevens Point Affecting Portage County. Wisconsin River Below Whiting Dam Affecting Portage County. Wisconsin River Below Wausau Affecting Marathon County. ...the Flood Warning Remains In Effect... ...Read More.
Effective: March 30, 2020 at 10:24amExpires: March 31, 2020 at 1:30amTarget Area: Marathon
Flood Warning
...the Flood Warning Continues For The Following Rivers In Wisconsin... Wisconsin River Below Stevens Point Affecting Portage County. Wisconsin River Below Whiting Dam Affecting Portage County. Wisconsin River Below Wausau Affecting Marathon County. ...the Flood Warning Remains In Effect... ...Read More.
Effective: March 30, 2020 at 10:24amExpires: March 31, 2020 at 1:30amTarget Area: Portage
Flood Warning
...the Flood Warning Continues For The Following Rivers In Wisconsin... Wisconsin River Below Stevens Point Affecting Portage County. Wisconsin River Below Whiting Dam Affecting Portage County. Wisconsin River Below Wausau Affecting Marathon County. ...the Flood Warning Remains In Effect... ...Read More.
Effective: March 30, 2020 at 10:24amExpires: March 31, 2020 at 1:30amTarget Area: Portage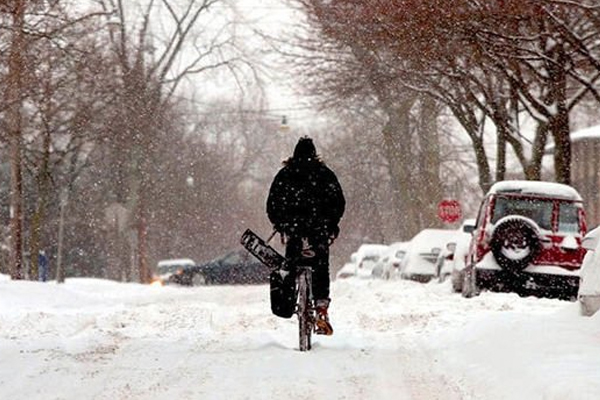 Wisconsin Frequent Weather Alerts:
Severe thunderstorms, hail, wind tornadoes, wind, extreme cold
Wisconsin generally has warm summers and cold winters with plenty of snow. It does have its major temperature extremes, as well as some severe weather. While it doesn't happen often, it is still worth knowing all the weather alerts.
Wisconsin can suffer thunderstorms and large hailstones, both of which are common due to the precipitation in the state. In southeast Wisconsin, a big threat is the wind, wind that can be stronger than most thunderstorms. Some records even show wind reaching 100 miles per hour, and that's without any severe weather causing it.
Tornadoes, while not as common as states in Tornado Alley, occur fairly frequently with an average of about 23 per year. They can bring with them the damaging winds and heavy rain that cause real damage. The tornado season goes from April to September, and most of them strike in the evening or late afternoon. Severe thunderstorms moving in from the Great Plains are common in late spring and summer, and Wisconsin can even experience the remnants of tropical storms formed in the Gulf of Mexico.
Blizzards are not uncommon in the winter along with extreme cold temperatures in the northern part of the state.
Complete Inc. is a licensed general contracting, construction consulting, and insurance appraisal/umpire claims firm