The National Hurricane Conference was in Atlanta this year as tornados crashed through North Carolina and St. Louis. The list of keynote speakers was as impressive as last year's conference in Orlando. From Dr. Gray of Colorado State University [http://hurricane.atmos.colostate.edu] to Craig Fugate ~ "forever Gator now FEMA administrator". Each was eloquent in their synopsis of what to expect going into this year's hurricane season. Even as we were attending, there was a low pressure system forming southeast from Miami that may be an early warning to what to expect this year.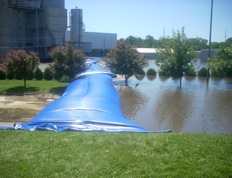 Complete General Contractors was a vendor this year; I learned a great deal from the other exhibitors and we made some great contacts. One featured item was a flood retention product presented by Wipp Systems. [Info@wippsystem.com] This system is economical, fast to deploy and reusable. I thought it was brilliant and would be an excellent investment for any city that may be threatened by river flooding. The system rolls out and then can be filled with water from virtually any source – from water hose to flood water itself. There may be other manufacturers so look around; we do not have a vested interest in the company.
This year I was honored to lecture with Bill Bracken, PE and the 2004 "First Responder of the Year for the State of Florida" on Gauging a Community's Infrastructure Vulnerability. Bill is a leader in the industry and the founder of IRP-FLORIDA [http://www.irp-fl.com]. He is also the principal at Bracken Engineering out of Tampa, Florida. I am a licensed general contractor (John Minor, CGC, CFM) in multiple states having recently added Certified Floodplain Manager to my resume. I have worked virtually every hurricane since Erin and Opal and travel from Houston to Charlotte to Miami restoring structures for municipalities, school districts, industry and property owners, as well as, serving as an appraiser and umpire. Our class focused on the role of the local municipality manager's tools in identifying in advance, or very quickly on the run, what are their priorities in an emergency response. We used a combination of resources including flood maps; wind maps from the event and in the code; and maps from the local communities and Google mapping.
In addition, I believe the initiative I wrote last year on the Digital Hurricane Symposium (digitalhurricane.org) will be a real asset to making good decisions. As one goes about overlaying information, a pattern can be obtained that will identify those areas that are critical facilities, older construction, pre-firm, closest to the high winds and/or surge. From this information, a city manager, or emergency manager, can move to those areas where help is needed most based on science. I was pleased to see "Buck" Lee of the Santa Rosa Island Authority at the conference taking notes and providing good information from his experiences at Pensacola Breach following Hurricane Ivan and Dennis and bringing back good information for our community here in the panhandle.
The major sponsors we should thank were Phillips & Jordan Disaster Recovery Group, Unified, Vanguard Emergency Management, Verizon and Crowder & Gulf, the other presenters and the National Hurricane Conference. We are just a small part of a very large initiative and we are proud that we were allowed to be a part of this year's conference.
Complete General Contractors, Inc. specializes in hurricane damage restoration from residential, commercial, industrial, and by municipality. John Minor has worked post-hurricane sites since Opal in 1995; his experience is far-reaching — from the Carolina's to Texas and all along the coast of Florida. The staff of Complete can meet with you to review your preparedness plan, and we will be there afterward should you ever need us. We specialize in the actual restoration, prevention, as well as, dispute resolution of a claim. Call the company the pros choose – call Complete.
This information should not be substituted for professional legal advice; consult with your lawyer for legal advice and ask your insurance professional to discuss the details of your policy and insurance needs.