Since 1997, Complete, Inc. parent corp and Complete General Contractors, Inc. FL has been a leader in restoration contracting, construction consulting and insurance appraisal across the southeast and Texas.
Founded in Wrightsville Beach in North Carolina in 1997, Complete provides services to select property owners, businesses and governmental agencies as well as clients in the insurance and legal industries. By establishing a reputation for thoroughness and reliability, Complete has come to be respected as a consistent leader in the understanding and valuing of construction problems, alternative dispute resolution services and catastrophe response.
In 2018, Complete added engineering to our suite of services to better serve our clients in the resolution of difficult hurricane damage or builder liability claims.
Our dedicated professionals bring years of technical expertise to every project to push your problem and the facts through. Our commitment to clients has been a pillar of our position as a service-driven leader in our industry. When you need a team who knows how to navigate the difficult road from disaster to normalcy, from impasse to agreement, give us a call.
Complete is a group of specialized experts led by President John Minor, CGC, CFM providing forensic engineering project management and consulting services throughout the United States to put our clients ahead. We work as professional engineers, certified general contractors, flood plain managers, building consultants, trial experts, and appraisers. Our corporate office is in Pensacola, FL, as well as offices in Miami, FL, and staff throughout the panhandle.
Our group provides for agreed property damage value and scope recommendations to property owners, insurers and their clients each year in our role as building consultants. Our commercial side has been active in the resolution in some very large losses for more than last two decades as appraisers and experts following a career of hard construction restoring buildings. Providing hard won expertise, Complete is dedicated to the formation of lasting client relationships and solutions. With its core values of trust, integrity, and responsiveness to client needs.
Services We Provide
Forensic Engineering
Our inspections include structural hurricane, and construction defect damage assessments and recommendations by our state licensed professional engineers. James Coil, PE leads the engineering services provided by Complete.
Project Management
Our general and roofing contractors understand complex construction schedules, costs, budget, specs and codes. If your project needs cost estimating or other construction management our teams have the knowledge and expertise on custom coastal and high-end construction.
Insurance Claims Appraisal
Serving in the formal alternative dispute resolution process included in most residential, commercial and industrial insurance policies. With our years of experience in appraisal, Windstorm certifications, and a lifetime spent on real construction projects, Complete can conduct thorough appraisals and accurate restoration cost estimates to resolve claims in the appraisal process. Much of our experience is in large loss wind and flood claims for school districts, municipalities, commercial or multifamily residential.
Expert Witness
Complete provides expert witness services for cases involving construction defect or damage due to natural disasters. We have trial experience in land use, floodplain, hurricane VPL and construction defect.
Diagnostics/ Technical Service
Visible water intrusion damage is usually the end result of a chain of issues related to storm damages or construction defect. Complete utilizes best-in-the-industry tools and reproducible techniques for documenting conditions on damaged structures.
Complete provides the expertise to uncover the source of a problem and outline exactly how to restore a property and prevent future issues. Call Complete today to see how we can take care of the details so you or your policyholders can get back to taking care of business.
Complete, Inc. Management Team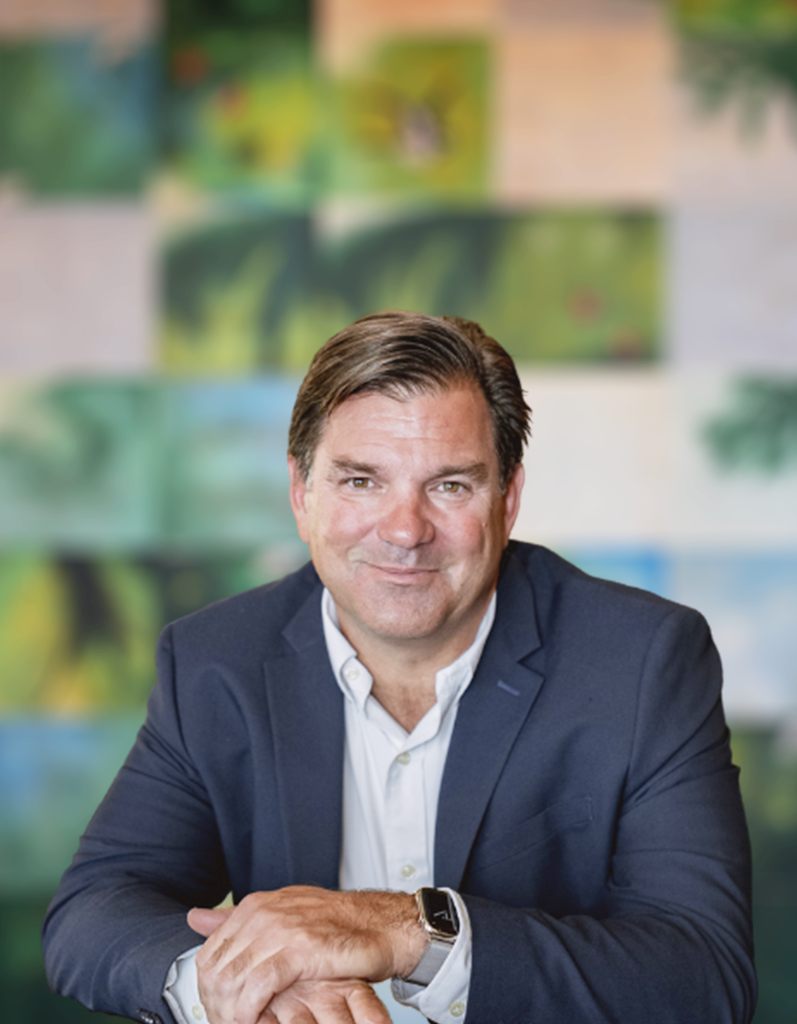 John Minor, CGC, CFM President
John G. Minor, Certified General Contractor, Certified Floodplain Manager, is a large loss insurance appraiser and expert witness as the President of Complete. His goal is to leverage his 25 years of experience, training, relationships and specialized knowledge to provide answers to support his clients through the difficult challenges of property claims.
Much of our current work is building consulting and insurance appraisal services. John also is a certified insurance appraiser, a Wind designated Professional, a FAA 107 licensed remote pilot, a Xactimate expert and a FLIR trained thermographer.
Complete serves the country out of Pensacola, Florida, and is a licensed general contractor in multiple states. We use our years of experience in residential, commercial and industrial hard construction to understand what your damages are and how best to restore them successfully.
Art Minor, Johns' father, was a licensed plumbing contractor and worked in Gulf Breeze, Florida since 1971. John gathered the experience of working on peoples problems very early carrying his fathers tool box to eight houses a day most summers and often after school. There is nothing like doing a job in someone's home to teach you how to communicate and respect their space. Those early life experiences working with homeowners, property managers and other trades have been critical and give John an edge when it comes to gathering good actionable information.
In addition to managing the business of Complete, John Minor teaches classes on restoration, appraisal and construction defects to a variety of clients through Lorman Education Services, the National Hurricane Conference and other professional trainers. These classes are offered to attorneys, adjusters, and construction industry professionals and provide CEU credit hours. Many of the early classes starting around the year 2000 were associated with EIFS installation and resulting water damage and mold. These classes put on by the ASPE put John teaching in front of thousands of contractors, lawyers, architects and engineers in cities throughout the south east. Many of these classes were co-hosted by Tyvek giving an in depth understanding of the use of weather resistant barriers and their successful integration with flashings.
John was involved as the restoration contractor and expert on many large loss EIFS restoration projects in and around Wilmington NC in the late nineties and early in the new millennium as the issues associated with synthetic stucco were becoming known.
John's experience in hurricanes reach back to growing up as a coastal resident on Soundside Dr in Gulf Breeze Florida. This has grown into a passion for understanding these events and triggered his work with the FCMP Florida Coastal Monitoring Program at the University of Florida Powell Lab. The FCMP is a FEMA supported program that sends weather recording equipment out into the field to place weather equipment in front of landfalling hurricanes. John is a member of the set up team and has provided volunteer support of the program for more than a decade dropping equipment ahead of many hurricanes hitting throughout Florida and the southeast. There is no experience that John can compare with that is similar to the week before, and the week after a landfalling Major hurricane.
Mr. Minor has been involved in the successful discharge of hundreds of millions of dollars as an expert in property claim lawsuits and disputes. Following Hurricane Ivan, John served as trial expert for Jim Mackenzie, Esq. and the insured on several wind v flood lawsuits documenting the costs and scope of hurricane damages prorated between causes. John served in a similar capacity for State Farm following Hurricane Katrina and was credited with providing science based cause and cost expertise. After Hurricane Gustav one of Mr. Minors files went to the La. Supreme Court where his testimony helped firm up case law surrounding the New Home Buyers Warranty Act.
John has worked large appraisals including the 51 schools damaged in the 2013 Amarillo ISD hail claim or the entire city of Lynn Haven Florida following Hurricane Michael. John is well known as being fair but extremely thorough. John's approach is to do the work, to get down into the trenches, to ask more questions and to stay longer looking for the answers. His work is throughout the country and Mr. Minor has served both by the plaintiff and defense for a fair appraisal of the issues at hand.
Complete provides appraisal services for the policyholders, insurance companies, counsel, and business owners throughout the Southeast as forensic engineers and construction consultants.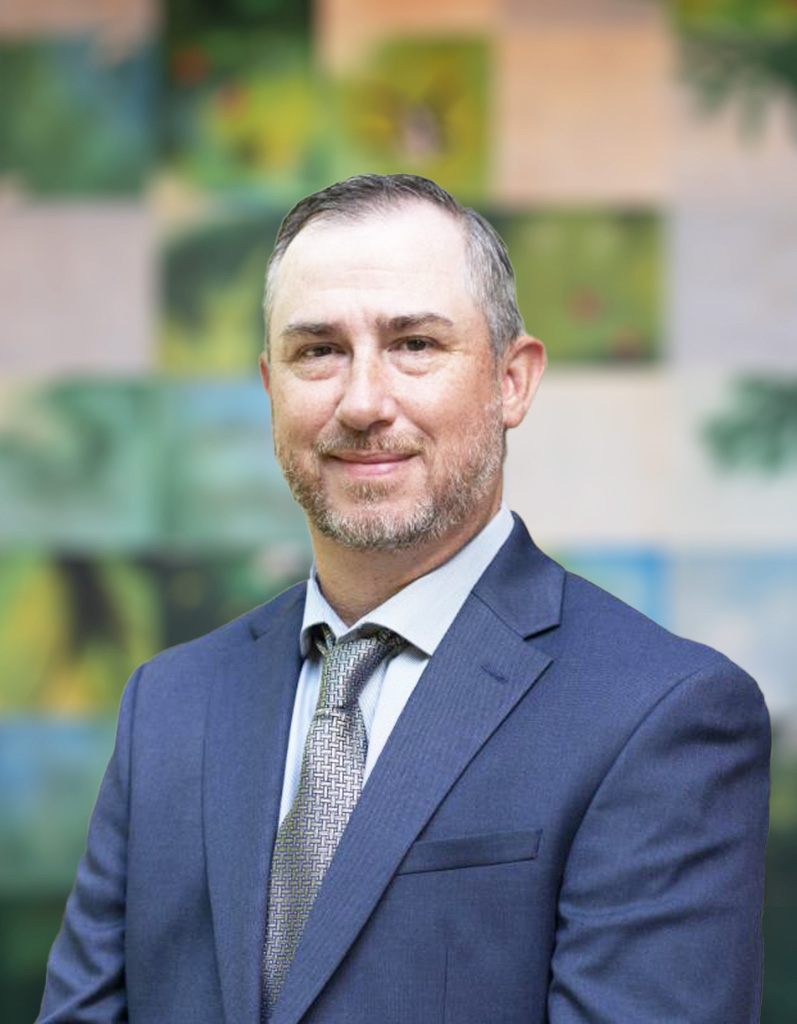 Mike Sico, General Manager
Mike Sico joined Complete in 2019 and has plenty of history working with John Minor and others from our team on previous projects. Originally working out of our Houston office, Mike is very familiar with our Texas market and has inspected, written, and helped to resolve hundreds of claims for everything from hail-damaged school districts to Hurricane Harvey homeowner claims on the Gulf Coast.
Mike made the move east in 2021 and now manages the team from our home office in beautiful Downtown Pensacola. In addition to WIND Appraiser and Umpire certifications, Mr. Sico is also a FLIR licensed thermographer and FAA 107 certified drone pilot.
Mike specializes in inspecting, writing, and managing claims and has plenty of experience doing so while working for his cousin and industry friend of Complete, Don Staples of Staples Consulting Group. He engages clients and helps them through the process of successful resolution of difficult property damage claims in our role as building consultants and alternative dispute resolution specialists.
Mike is a native of Maine but has lived in Texas for most of the last decade. In his spare time, he enjoys playing golf and spending time with his wife. As you might expect from a "New Englander," you can find Mike wearing Red Sox and Patriots colors when he isn't wearing Complete gear.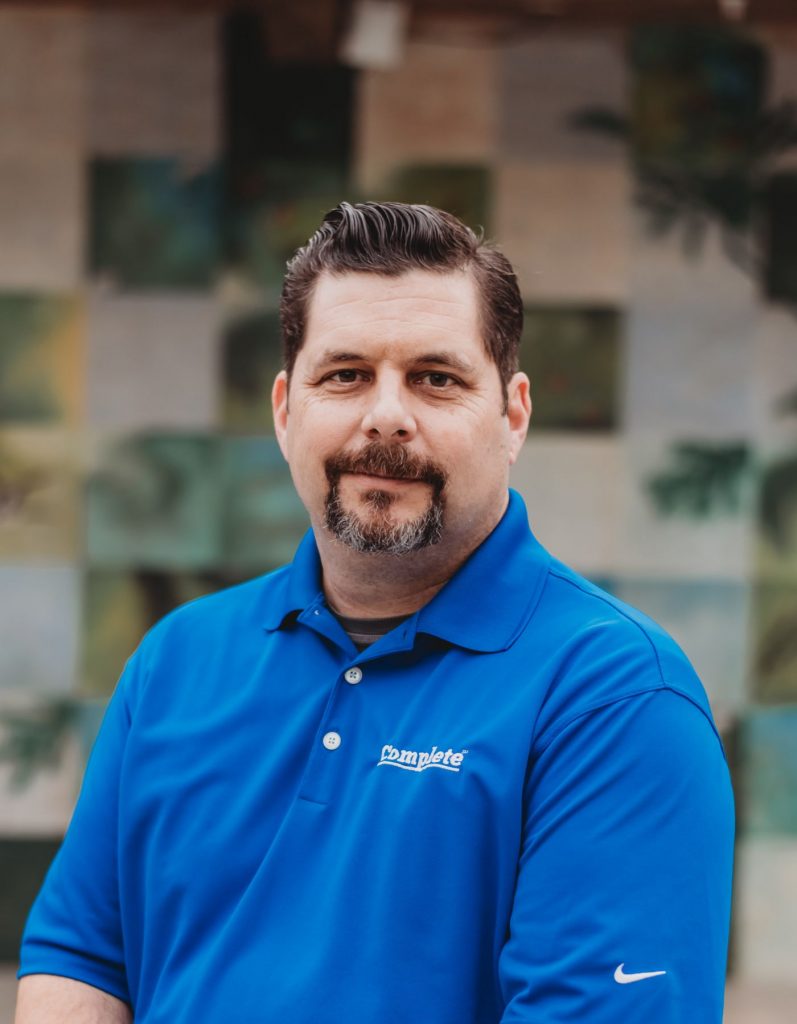 Jimmy St. Romain, Operations Manager
Jimmy St. Romain is a detail-oriented professional with more than 21 years of residential construction management experience and more than 10 years of Insurance Restoration experience. Additional qualifications include Licensed Home Inspector in Florida and Alabama, and IICRC WRT certified in Water Restoration. His goal is to provide the highest level of service helping provide for policyholders, insurance companies, and all others involved with Umpire and Appraisal services.
Fellow members of Team Complete often refer to Jimmy's office as "Grand Central Station" as he organizes and directs multiple inspection teams that are in many cases reviewing multiple properties every day on opposite ends of the state — and beyond. He often engages with public adjusters, insurance companies, and contractors — in any way necessary to facilitate the successful and fair resolution of each claim that Complete serves a role in.
A Louisiana native, Jimmy has lived in Pensacola for the past 6 years and enjoys spending weekends with his wife Karen here at what we call the best beaches in Florida. Call our office and there is a good chance you'll get to speak with Jimmy.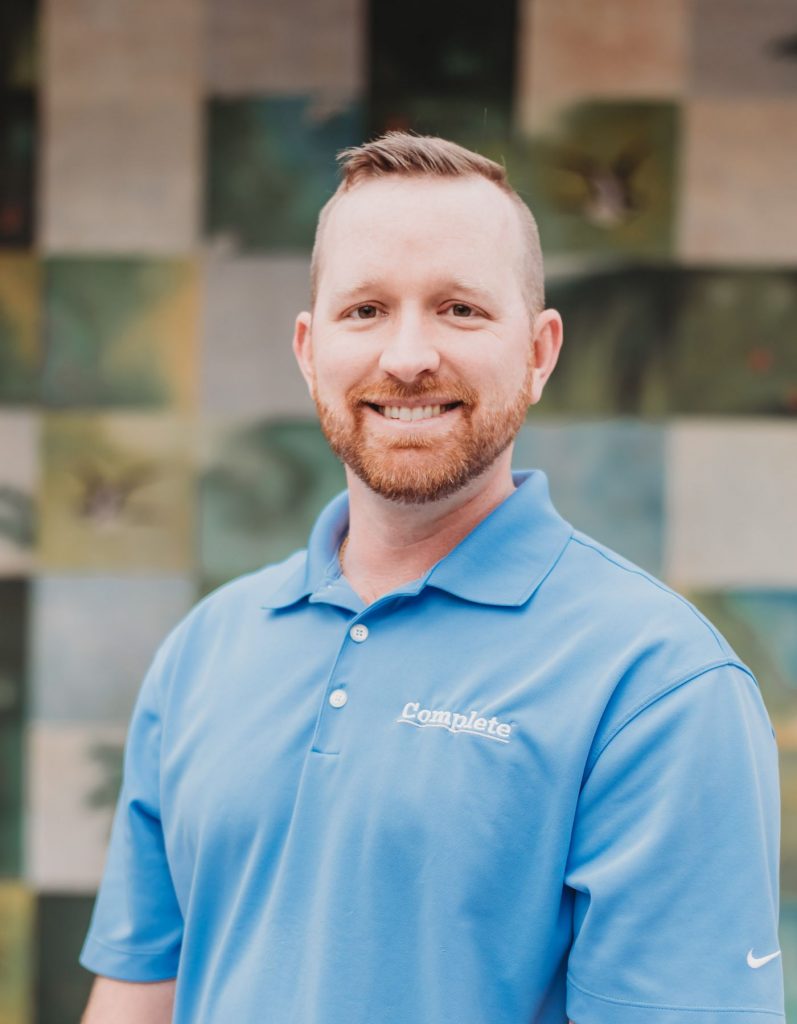 Matt Miller, Senior Project Manager
Matt Miller began his career at Complete in 2015 as a Project Manager, learning the ins and outs of the insurance claims industry as John Minor's right-hand man. As a graduate of Florida State University's College of Business, John saw professionalism and acute attention to detail as traits that could contribute to successful outcomes for his clients.
In his first year Matt acquired Xactimate and WIND Appraiser certifications, and more importantly gained invaluable experience in the field — walking 3.2 million square feet of commercial flat roofs and leading multiple teams daily on roof and interior hail damage inspections.
The roof inspection process has evolved with technology, and so has Matt as he has acquired both FAA 107 Remote Pilot and ITC Level 1 sUAS Thermography certifications, and serves as senior drone pilot and thermographer at Complete, directing our teams in the field on everything from residential inspections to large commercial and municipal projects.
In addition to leading the drone operation, he also has a vital role in the creation and finalization of deliverables, including estimates, written reports, VL/IR photo reports, and 3D models.
When he isn't deep into an Xactimate estimate or at the controls of an Autel Evo II drone, Matt enjoys time on the golf course — and in fact is a former PGA Golf Professional. Matt looks forward to continuing to serve the insurance industry for years to come and thoroughly enjoys the process that leads to the best two words we ever hear from our clients: Thank You.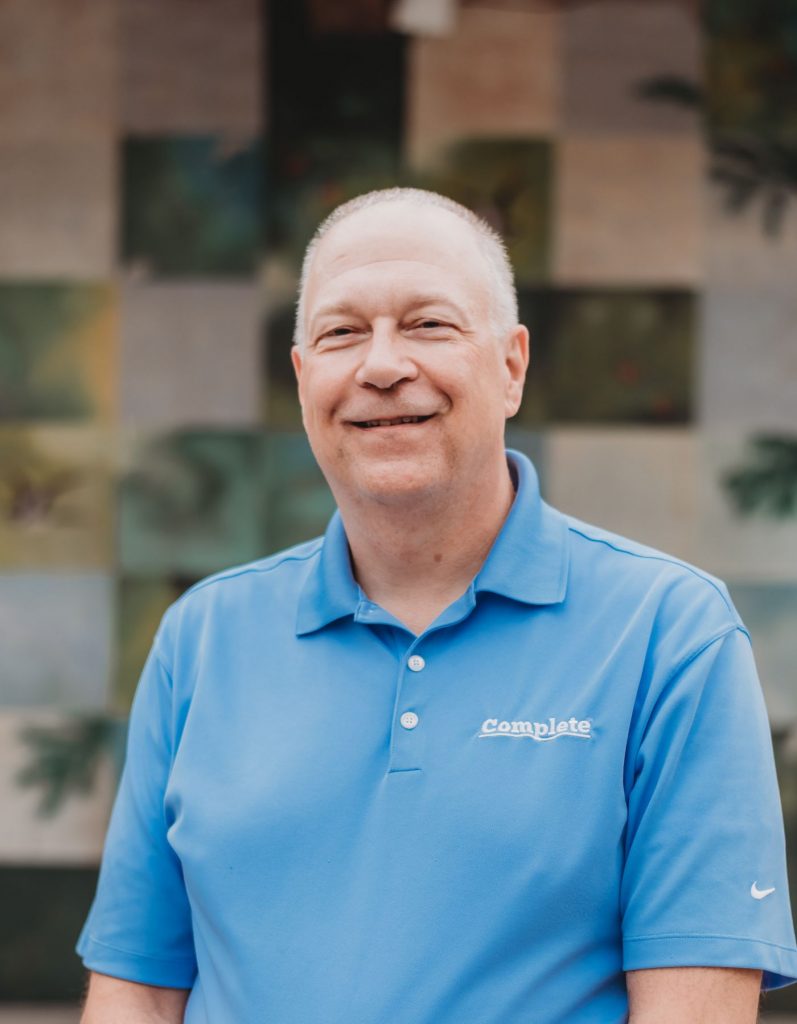 James Coil, P.E., Director of Engineering
James Coil serves as the Director of Engineering for our North Florida office (Pensacola), although our nationwide client base surely takes James and others far away from our laid-back Florida Panhandle home base.
James joined the team in 2019 and comes from a strong engineering background that includes work in infrastructure, architecture, IT, and surveying & mapping, including extensive experience as a UAV Consultant and Pilot.
Mr. Coil is a perfect fit as he joins a team with nearly a dozen licensed FAA remote pilots along with experience as a 3-D Data Analyst that will further strengthen the team's aerial surveying capabilities from a mapping and modeling perspective including the use of Pix4D Photogrammetry processing and Virtual Surveyor. This data will be vital in contributing to ASCE 7 engineering analysis by being able to obtain building dimensions and orientation from the field using Small Unmanned Aircraft Systems.
James, a Kentucky native, graduated from the University of Kentucky with both a bachelor's in Mechanical Engineering and a Graduate Certificate in New Maps Plus. As one might expect, James considers himself an avid UK basketball fan. James has two adult children and enjoys spending time outdoors including shooting sports and darts.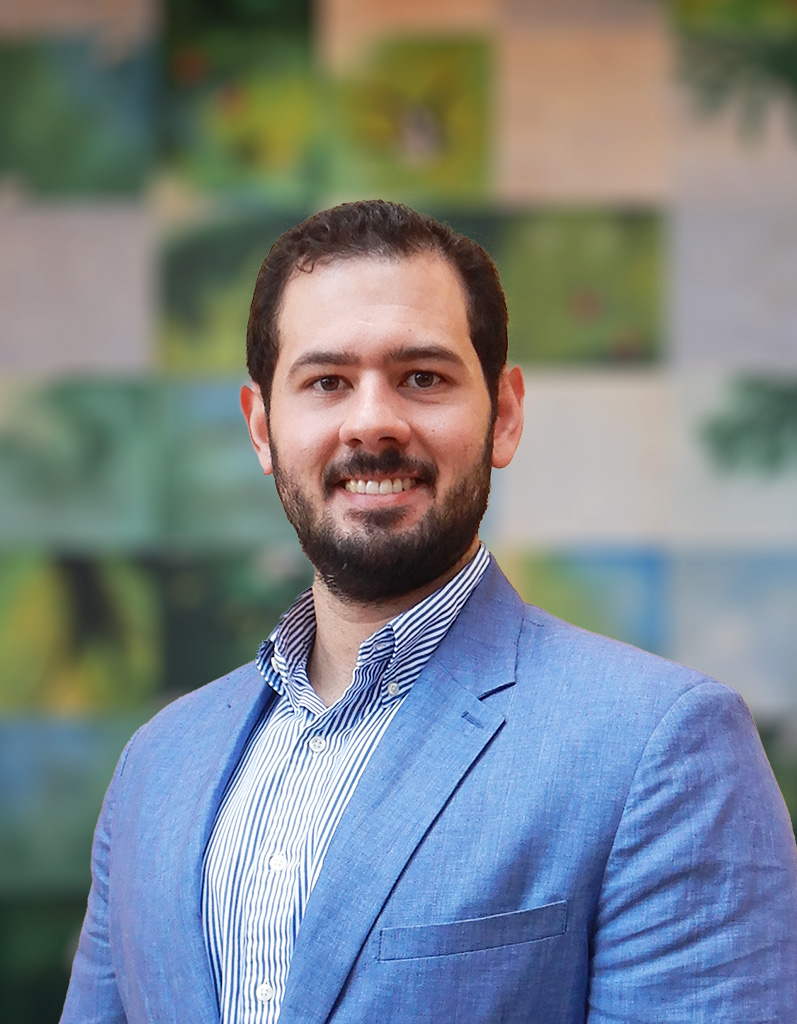 Luis Pappaterra, P.E., Structural Engineer
Luis Pappaterra serves as the Structural Engineer for our Miami, Florida office and assists with structural inspections wherever his skills can help meet our client needs.
Luis is a Professional Engineer with experience in structural design, threshold inspections, construction supervision, and forensic investigations. He is also highly skilled at preparing detailed forensic engineering reports to document the cause of failure and extent of loss, as well as expert witness testimony.
Mr. Pappaterra will also be focused on helping condo associations through the structural recertification process.
Luis graduated with a Master of Science in Civil Engineering from Florida International University Miami, FL. Luis is currently working toward his Doctorate Degree in Civil Engineering at Florida International University and is a research assistant at NSF-NHERI Wall of Wind Experimental Facility. Luis attended Florida International University for his bachelor's and master's studies.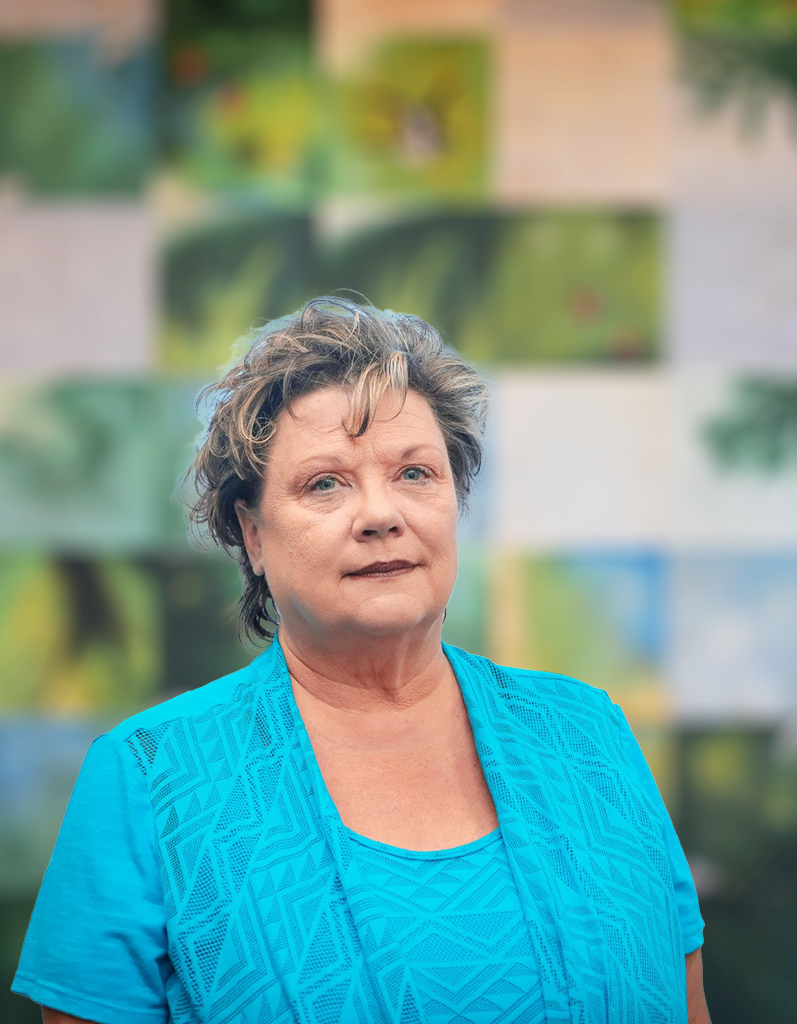 Paula Phillips, Accounting & Administrative Support
Paula Phillips serves as the administrative support personnel for Complete, Inc. She handles the various aspects of the accounting and corporate operations utilizing her professional skills, which have been acquired over the past 30-plus years.
Paula manages all accounting and payroll services, an intensive and important role as Complete continues to grow and expand. Providing a high work ethic, promoting a positive, professional atmosphere, and offering dedication to Complete has been her strong suit over the years. She has served at varying levels and professional positions since 2007, based on the requirements at the time.
Paula graduated from the University of Alabama and still roots hard for the Crimson Tide. Her interests include dogs (especially Pugs) and supporting St. Jude Children's Hospital. When not working Paula enjoys spending time with her kids – Ashley & Gundy – who are grown up and also reside in Gulf Breeze, where she has enjoyed living over the past 30-plus years.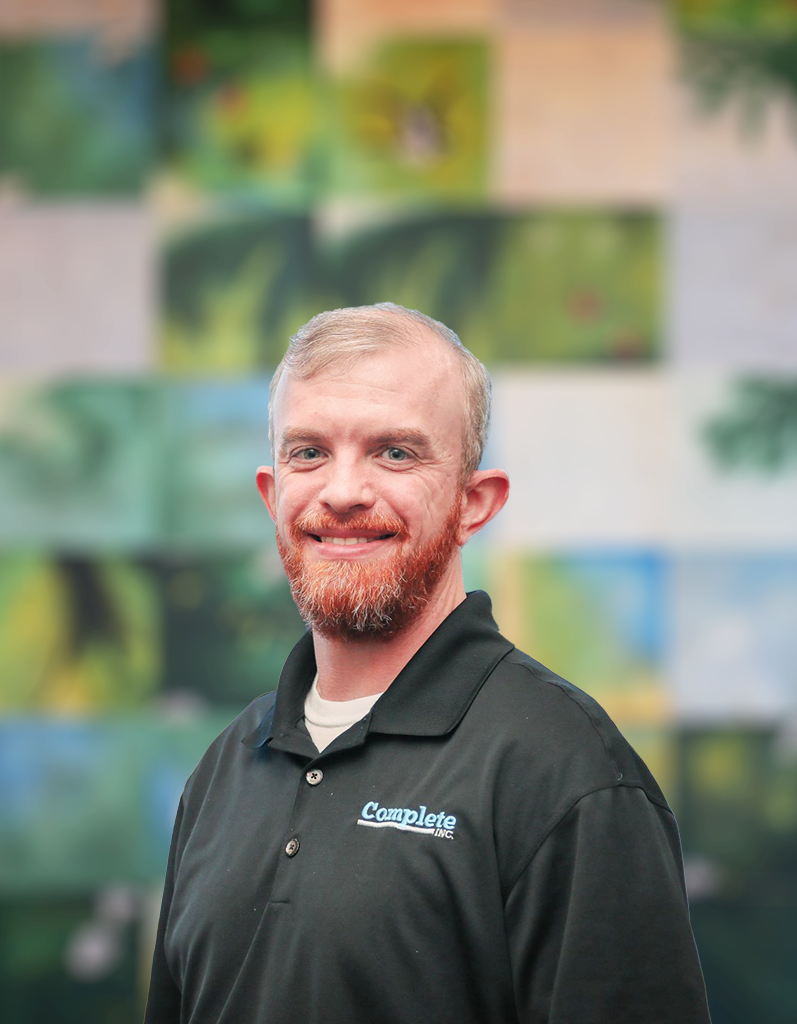 Charles "Rusty" Downing, Claims Estimator
Charles Downing, known to his friends and colleagues as Rusty, is a long-time resident of Mobile, Alabama. He attended the University of South Alabama while maintaining a full-time schedule in the customer service industry. In 2016, he became an insurance adjuster while balancing family life with a wife and young son at home.
Rusty now has some good experience under his belt including wind claims from Hurricane Matthew in Florida, flood claims in Tennessee, Georgia, and northern Alabama as well as Hurricane Harvey claims in Texas. In November 2018, he joined Team Complete in the Panhandle of Florida to assist with Hurricane Michael. Since joining Complete, Rusty has progressed from field inspector & estimator to a more broad role that includes peer reviews of CGC estimates, writing claims in Xactimate, and operating drones as an FAA licensed sUAS remote pilot.
In his off time, Rusty enjoys playing with his two young sons, working around his home with his wife Jennifer who he married in 2012, and spending time with friends and family.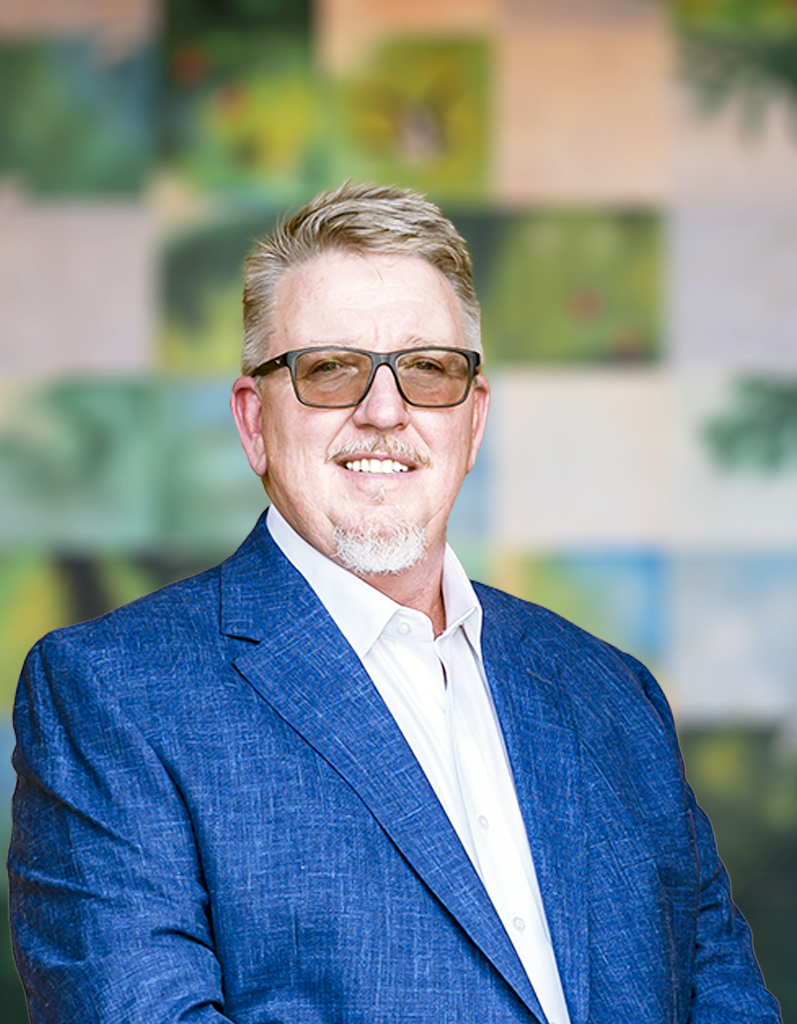 James "JB" Burnes, CAM, Business Development & Project Manager
TeamComplete Business Developer, Project Manager and Licensed CAM has taught classes on Disaster Preparedness/Recovery for condos. JB is an integral part of our Condo Safety Services Team. He is passionate about responsible building management and he enjoys helping associations avoid unnecessary special assessments without compromising safety.
30+ years of experience as a proven project / operations manager. I worked as a consultant/contractor on gulf coast recovery projects after hurricanes Ivan, Dennis, Katrina, Michael, Sally and Ida. These projects included condominiums, commercial properties and Tyndall AFB. My experience ranges from managing construction projects to defining, building, and implementing enterprise software systems. Assessing business needs, defining program requirements, purchasing technologies, recruiting, and training talent, measuring success and implementation of continual improvement programs.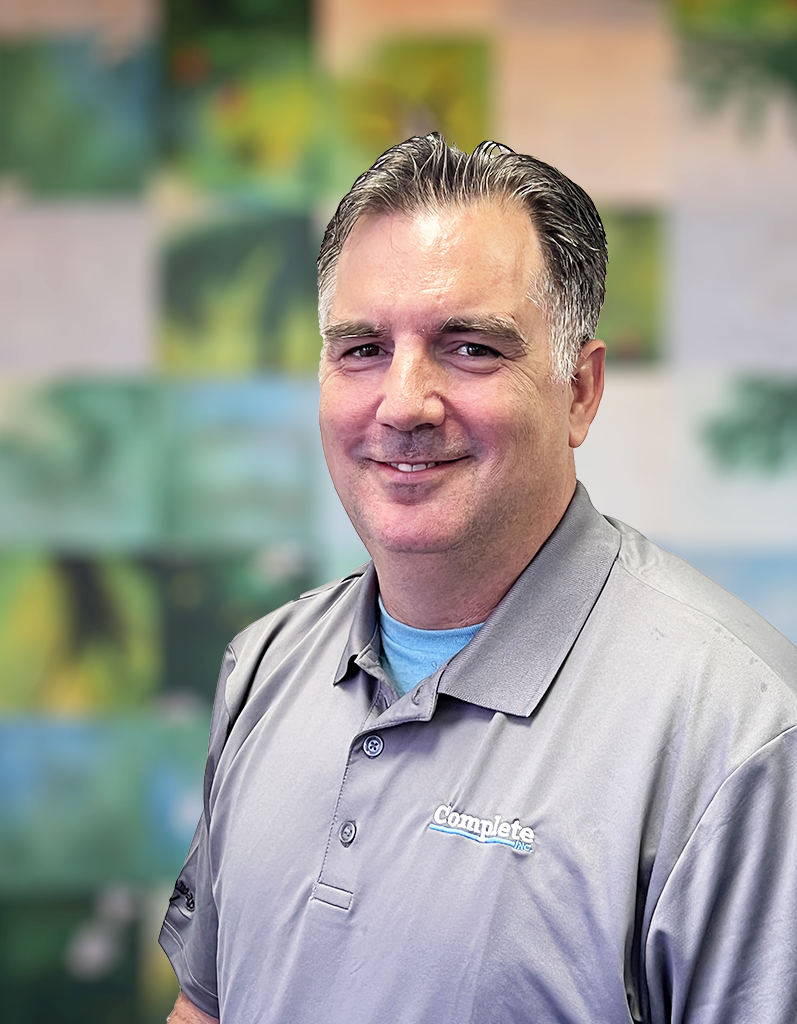 Dan Minor, Certified Consulting Meteorologist
Lt. Dan Minor, Retired is an American Meteorological Society (AMS) – Certified Consulting Meteorologist (CCM) who has spent the last 25-plus years working full-time for the United States Navy and part-time with Complete.
Dan has served many roles in various states and countries, including his most recent position as Training Department Head at the Fleet Numerical Meteorological and Oceanographic Center (FNMOC) in Monterey, CA. There, he oversaw all aspects of professional training for over 200 environmental and computer scientists, technicians, and other military personnel. In a previous position, Dan served as a Geospatial Intelligence Officer in Washington D.C., a role that allowed him to use his weather expertise in Arctic policy and maritime domain awareness.
Dan's military experience had him cross the globe starting in a community that relied more on weather balloons and observations instead of super computers and modeling. One of his first deployment was Mcnurdo Station, Antarctica where Dan was one of the "Frozen Chosen" selected to winter over near the South Pole.
Dan was fond of his time on the USS Peleliu and provided much needed weather support out of Ghibouti Africa of our interests off the coast of Somalia. Dan was a rare breed starting out enlisted and making Chief before taking a commission on snow day at Keesler Air Force base in Biloxi.
At Complete, Dan performs forensic analysis on weather events in order to facilitate the full understanding of damage profiles to commercial, municipal, and residential buildings. He develops opinions of these events that are backed up by radar, satellite imagery, weather observations, and eyewitness accounts.
His understanding of damage-causing weather events such as hurricanes, hailstorms, and tornados is invaluable to the professionals at Complete. This information provides the ability to precisely and accurately estimate scope of damage as it relates to a particular weather event at a specific location, which adds a layer to cost estimating that very few in the industry possess.
Dan lives in Gulf Breeze, FL with his wife Rebecca and son Rex and is happy to be back at the beach where he grew up. In his spare time he enjoys scuba diving and fishing.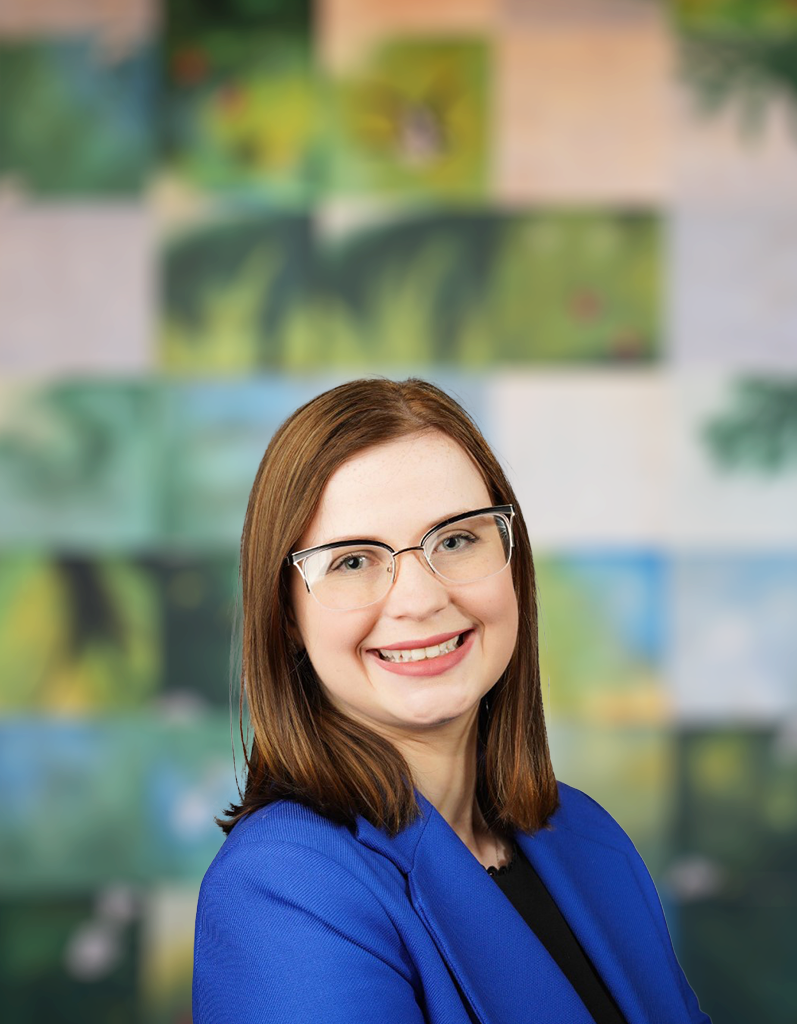 Anna Lowe, Administrative Support
Anna has joined our group as an administrator and proven herself to be an integral part of our team, both on the outbound and internal side of Complete.
Anna recently graduated the University of West Florida with a Bachelor of Arts in Communications and is looking to return back to for a Masters degree in Strategic Communications.
Want to be a part of Team Complete?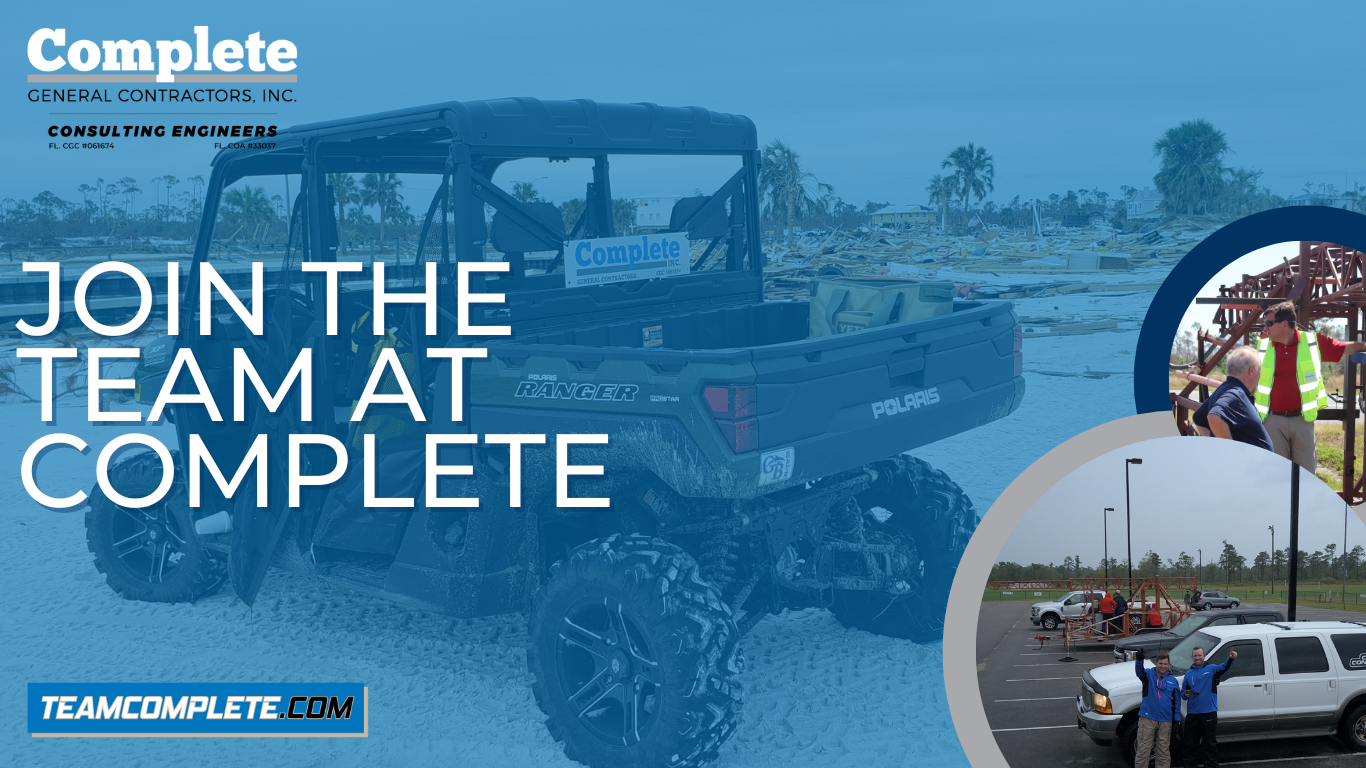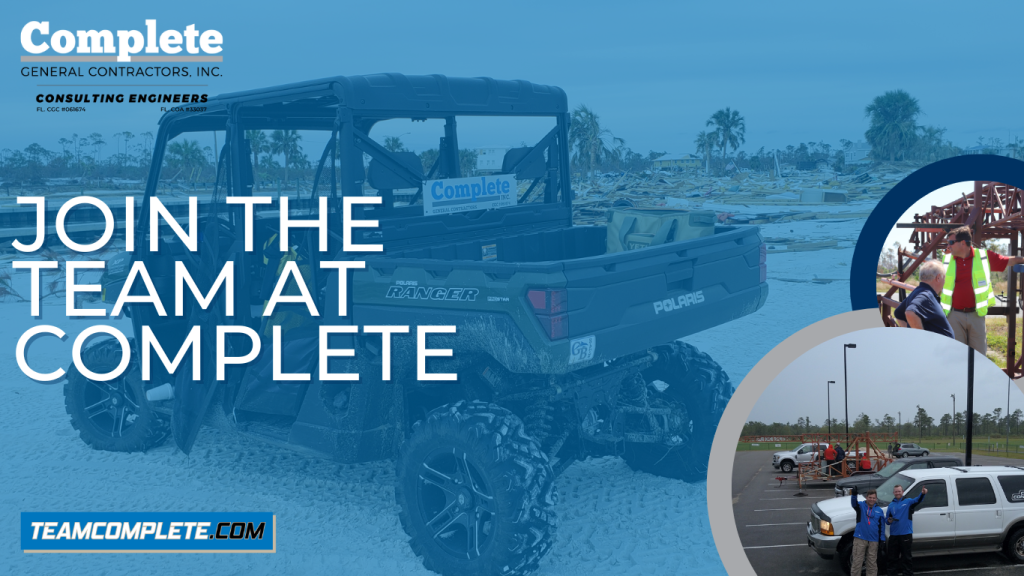 Learn More about Team Complete and Insurance Claims Appraisal