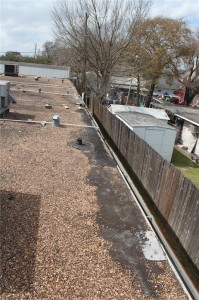 At Complete, we pride ourselves on our successes as appraisers, builders and restorers of commercial properties. We have successfully worked for clients on large-scale, commercial buildings across the country. Our projects have included retail and industrial-use buildings including high-rise, concrete and steel structures. Our satisfied customers include businesses with over 1,000,000 square feet of retail space, as well as federal, municipal and city government projects.
The Complete team can take on the diagnostics, appraisal and restoration of commercial properties damaged by wind, water, fire, flood or construction defect. Our in-house professionals are trained and certified in the use of multiple diagnostic tools, including Flir Thermal Imaging Cameras, GE Protimeters and Tramex wall and roof scanning equipment. By having these skills and professionals on our team, we can eliminate delays and consultations that otherwise would keep escalating costs and moving deadlines beyond what was originally promised.
For new construction projects, John Minor and the professionals at Complete are intimately familiar with the laws, rules and regulations governing commercial building projects in all of the areas where we are licensed. Our years of experience and certifications in floodplain building, abiding by state and city building codes and ordinances, natural disaster building regulations, and insurance coverage for natural disasters and construction defects makes us a one-stop-shop for our clients.
Regardless of the scope and scale of your project, you can count on Complete to handle your project with professionalism and reliability. Call us today to discuss the details and know that your commercial construction or restoration project will be managed by professionals that value doing things the right way the first time.