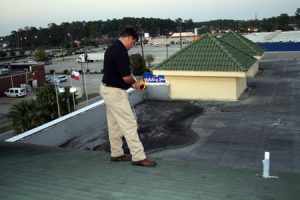 Attorneys, their clients, and insurance companies often need expert witness services to prove their case in a court of law. Over the years, Complete has served as a valuable resource during litigation involving building construction defects or damages caused by fire, flood, wind, hail or other acts of nature. In this capacity, it is our responsibility to assess property damage, create detailed reports analyzing the causes of the loss, and present our findings in court.
In every case, no matter who we are working with, our end goal is to use our expertise in the fields of construction and contracting to resolve commercial and residential damage disputes. In expert witness cases, Complete works with the lawyers, contractors, and engineers involved to generate a plan based on the damages to the property and in compliance with the provisions and spirit of the insurance policies in effect at the time of the loss.
With our vast experience and expertise in using the latest in diagnostic equipment, we can perform a detailed survey of the property to help determine the cause of the loss and assess what can be potentially recovered. We take our structural witnessing responsibilities very seriously, and have helped dozens of clients reach favorable settlements.
John Minor and the professionals at Complete can serve as expert witnesses in many types of property damage and forensic engineering disputes. Contact our office today to discuss your expert witness needs with a member of our team.