Complete is a group of specialized professionals working across industries as licensed general contractors and consulting structural forensic engineers.
The North Carolina Complete, Inc. corporation (Unlimited Builders # 42065)  since 1997 doing business in the State of Florida as Complete General Contractors, Inc. CGC061674 and licensed since 2000 as properly filed with the Fl. Secretary of State. John Minor is the licensee and president of Complete, Inc.
Mr. Minor is also a:
OSHA Hazwopper
Certified Floodplain Manager, CFM
Thermographer
La. State licensed Appraiser
NC Dept of Insurance – Certified Instructor
Certified Appraiser/Umpire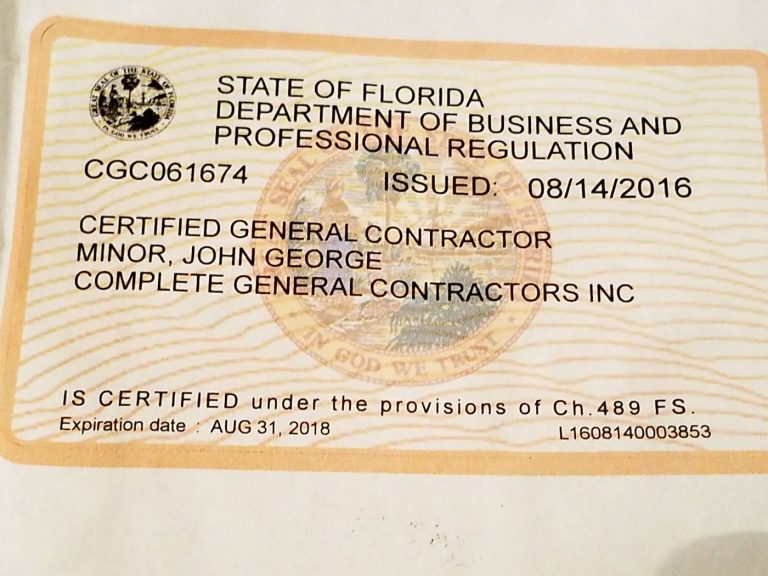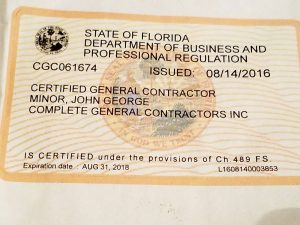 Complete works both as construction consultants and diagnosticians with an emphasis on exterior water shedding systems. John Minor serves as a property damage appraiser & federally appointed umpire throughout the country on disputed claims in the alternative dispute resolution process.
On the hard construction side licensing, workers compensation and liability insurance is compliant per state based on workload and maintained appropriately.  Complete General Contractors is state certified and registers with local municipalities and is qualified to pull any construction permit in these states regardless as to size or type of construction unlimited. The hard construction work of the company has been completed in both of the Carolinas and Florida exclusively. The vast majority of our work is commercial and residential restoration or repair. This includes mitigation, roof replacements, window, door and exterior cladding repairs and replacement, structural and foundation repairs and interior put-backs. This work has centered around Gulf Breeze, FL, the home town of President John Minor and Bald Head Island, NC. Mr. Minor has responded to the vast majority of U.S. natural disasters since 1994 and has served municipalities, FEMA – NFIP as an appraiser and umpire, large insurers, property owners and fortune 500 companies.
 
Mr. Minor has lectured nationally as well as at at the National Hurricane Conference (National Hurricane Conference – Gauging a Communities Infrastructure Vulnerability jm) 
Mr. Minor was the mitigation expert for The Last House Standing on DIY  TV 
Mr. Minor was the prevailing trial expert on several wind v flood cases following Hurricane Ivan in Santa Rosa County and Escambia County Florida (Ondis V State Farm) 
Mr Minor was the voir dired supreme court prevailing expert in the case defining the "New Home Buyers Warranty Act of La." Shaw V Arcadia – this case segregated construction defect damage from Hurricane Gustav damage and defined "structural" under the Act. John Minor was the construction defect and hurricane damage expert
Mr. Minor was a hands-on participating Steering Committee member and analyst for SERRI Report Phase II 90100-a division of Oak Ridge Laboratory FEMA Building Science in studies at The IIBHS facility in S. Carolina and Coastal Engineering program at the University of Florida. 
Florida State University Special Instructor  StormRisk.org completecontracting.com/…/FSU-PowerPoint.ppt on Wind V. Flood.
John lives in Gulf Breeze, FL, and is the proud father of Adam, Jack & Grace Minor with his wife of 17 years, Gina. He enjoys golf at Pensacola Country Club, speckled trout fishing, and has coached youth sports for the last 15 years. John's children attend Gulf Breeze schools, as he did 40 years prior, in this small waterfront community on the Gulf of Mexico near Pensacola, FL.
Mr. Minor's curriculum vitae is attached. JM CV_ Aug 2016.
A list of expert trial history is available upon request.