Hats off to David Barrack, Executive Director of the third annual First Party Claims Conference (FPCC). FPCC was held October 16 through October 19, 2011 just outside the city limits of beautiful Providence, Rhode Island. Bringing together sponsors, exhibitors and over 40 exceptional speakers, the FPCC hosted industry professionals from coast to coast, offered hot-topic education sessions (many offering CE credits), and provided invaluable networking opportunities. The featured keynote speaker, Greg Serio, former Superintendent of Insurance for New York City, kicked off the event with a riveting presentation–"9/11/01–Ten Years Later: Lessons Learned and the Impact on Property Insurance in Conjunction with Recent Disasters". As an exhibitor, Complete, Inc. would like to say, "Job Well Done" to David Barrack and his staff at FPCC!
John Minor, President, Complete, Inc., took part in this year's conference as an exhibitor. "I was very impressed with the presenters at FPCC, especially the class I attended taught by Jeff Schwenk of Continental Machinery-"The Value of Using Forensic Science to Assess Industrial Losses". His clear and careful explanation of the nature of soot from fire losses really got me thinking. It was explained that soot is hydroscopic, that it accepts and retains moisture. This allowed me to understand the corrosion that we often see after the initial removal of the particulate matter prevalent after a fire. By FPCC encouraging the attendees to choose who presents and on what topics, there was no doubt that the information imparted was timely and of consequence to those of us in the insurance industry." He went on to add, "As always, Chip Merlin, of The Merlin Law Group, was phenomenal. Chip Merlin does everything first-class and his presentation, 'Discovery: What Should be in the Claim File', was no exception."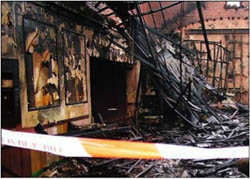 In a setting and format such as the case at FPCC, attendees were fortunate to be able to circulate often and spend quality time meeting exhibitors and learning about the specifics of their services. Those in attendance from Complete, Inc. became fast friends with our "exhibit neighbor", the team from Clean Care of New England, Inc. (www.cleancare.net) and enjoyed lengthy conversations with the Belfor USA group out of Philadelphia two booths down (www.belforusa.com)! The handling of the FPCC was a perfect recipe for learning, networking and developing industry relationships. We at Complete General Contractors, Inc. look forward to the 2012 First Party Claims Conference for another fantastic event! The 2012 annual FPCC is tentatively scheduled for October 17 through October 19, 2012, once again at the Crowne Plaza in Warwick, Rhode Island. We hope to see you there!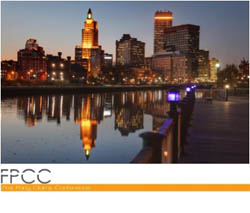 Complete General Contractors, Inc. specializes in hurricane damage restoration from residential, commercial, industrial and by municipality. John Minor has worked post-hurricane sites since Opal in 1995; his experience is far-reaching – from the Carolina's to Texas and all along the coast of Florida. The staff of Complete can meet with you to review your preparedness plan, and we will be there afterwards should you ever need us. We specialize in the actual restoration, prevention, as well as, dispute resolution of a claim. Call the company the pros choose – call Complete.
This information should not be substituted for professional legal advice; consult with your lawyer for legal advice and ask your insurance professional to discuss the details of your policy and insurance needs.