Three weeks after massive tornadoes hit the South, many residents and business have found themselves struggling to know where to turn. A generous outpour of donations and supplies have been brought in for immediate relief. The Federal Emergency Management Agency [FEMA] has reported that over 30,000 residents have applied for housing assistance, with as few as 800 residents being housed in shelters at this time. FEMA has announced that temporary trailers will be brought in for the storm victims; in addition, the agency is also picking up the tab for approximately 85% of the debris removal.

As a Certified Floodplain Manager, I can't help but let my attention drift to the west slightly as the Mississippi basin fights one of the worst flooding events in history. Although the lower portion of the Mississippi Delta has experienced numerous flood events over the years, the latest being in 2008, many experts fear that this event will be wide-spread. Over the years, spillways and levees have been constructed along the Mississippi valley in an attempt to regulate flooding. These areas have been designed around the use of watersheds, which allow floodwaters to escape to and be held. In an attempt to divert water away from New Orleans, Louisiana state officials opened the Bonnet Carre Spillway on May 9th, the first opening since 2008.
In addition, officials have opened the gates of the Morganza Floodway, which is releasing water in the Atchafalaya Basin; opening of the spillway has called for the evacuation of residences throughout the basin area. Based on projections, the estimated inundation from the opening of the Morganza Floodway will be approximately 15 to 20 feet. The Corps of Engineers has established an inundation map estimating the areas to be affected by the floodwaters and this can be seen at www.batonrougetoday.com/2011/05/09.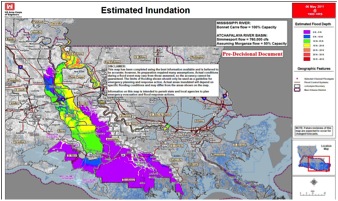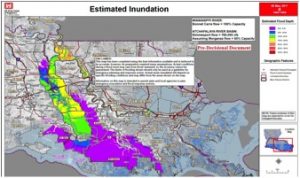 Floodplain management has been extremely important throughout the country. Watersheds are located along the coast and throughout the South and are used to manage excess water. In addition, mapping has been done by FEMA; this mapping allows for proper regulation of construction and overall development in flood-prone areas. Not only is this important for coastal regions, but as seen in recent weeks, floodplain management serves as a viable tool along interior river regions.
On May 12, 2011, a House committee voted unanimously to extend the National Flood Insurance Program, NFIP, [www.floodsmart.gov] until 2016; the measure will eventually phase out rate subsidies and will work to improve the accuracy of flood maps. Two coverage options have been added to the program: policy limits with regards to inflation and higher deductibles for rate-subsidized properties. The upcoming flood situation is proof that this program is much needed for many along the Mississippi River and its basin areas.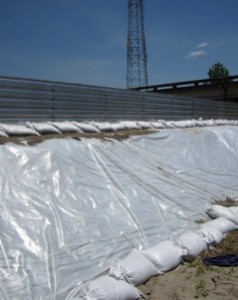 It is obvious to me, that technological advances in construction components/structure design and proper management of develop through floodplain management are essential to handling the forces that mother nature throws at us. We pray for these folks after what seems to be an endless supply of misery, especially in southern Louisiana where they have seen Hurricane Katrina, the Gulf Oil Spill and now this flood. If I see locusts swarming, I am packing up and heading for the hills. We hope that you do not need us but Complete has much experience in the restoration of properties damaged by flood, as well as, the appraisal and umpiring of these claims. Flood is a very specific policy and has to be written exactly right as it should be. We are available to work FEMA claims for municipalities, as well as, large loss NFIP losses as an appraiser or expert for either side.
Complete General Contractors, Inc. specializes in hurricane damage restoration from residential, commercial, industrial and by municipality. John Minor has worked post-hurricane sites since Opal in 1995; his experience is far-reaching – from the Carolina's to Texas and all along the coast of Florida. The staff of Complete can meet with you to review your preparedness plan, and we will be there afterwards should you ever need us. We specialize in the actual restoration, prevention, as well as, dispute resolution of a claim. Call the company the pros choose – call Complete.
This information should not be substituted for professional legal advice; consult with your lawyer for legal advice and ask your insurance professional to discuss the details of your policy and insurance needs.