Hurricane Gustav Download Printable PDF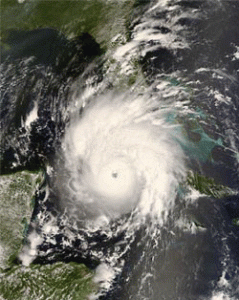 Hurricane Gustav came in near Cocodrie in southern Louisiana and continuing through Houma and then eventually Baton Rouge, after worrying the entire Gulf Coast for a week. The storm hit as a strong category two with 115 MPH wind speeds and up to a 15-foot storm surge. Baton Rouge is the most surprising of the damages that we witnessed where many of the properties were written without the benefit of a progressive building code. Fortunately for the people of Louisiana, as well as the insurance companies, the repairs will be done to the requirements of the International Building Code www.ICC.org
Hurricane Gustav was the seventh tropical cyclone, fourth costliest, third hurricane and the second major hurricane of the 2008 Atlantic hurricane season. Gustav caused serious damage and casualties in Haiti, the Dominican Republic, Jamaica, the Cayman Islands, Cuba, and the United States. Gustav caused $15 billion (2008 USD) in damages.
It formed on the morning of August 25, 2008, about 260 miles southeast of Port-au-Prince, Haiti, and rapidly strengthened into a tropical storm that afternoon and into a hurricane early on August 26. Later that day it made landfall near the Haitian town of Jacmel. It inundated Jamaica and ravaged Western Cuba and then steadily moved across the Gulf of Mexico.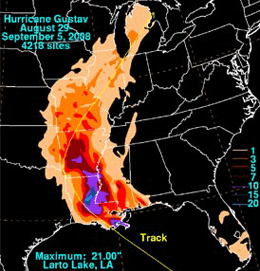 On September 1 at 9:30 a.m. CDT, the center of Gustav made landfall near Cocodrie on the Louisiana coast as a strong Category 2 hurricane — 1 mph below Category 3 — and dropped to Category 1 four hours later and to a tropical depression the following day. Gustav continued moving northwest through Louisiana, before slowing down significantly as it moved through Arkansas on September 3.
As of September 15, 138 deaths had been attributed to Gustav in the U.S. and Caribbean. Damage in the US totaled to $15 billion.
Louisiana
Hurricane Gustav entered the U.S. along the Louisiana coast, coming northwest from Cuba. Landfall was near Cocodrie, LA (see map) around 9:30 a.m. CDT; however, at 9 a.m. wind speed at Grand Isle, LA had been 115 mph, the highest eyewall speed, indicating the eyewall had traveled over 4 hours along the coast. The eye continued northwest across the state, so damage and deaths were widespread in many areas.
Forty-three deaths in the state of Louisiana were blamed on Hurricane Gustav. After Gustav weakened to a tropical depression, several tornadoes were spawned including one rated EF2 that killed two near Mamou during the early hours of September 3. The tornado also injured two others.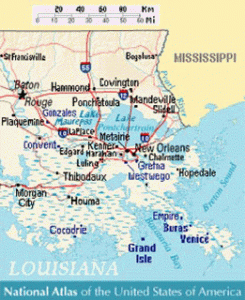 Around 1.5 million people were without power in Louisiana on September 1. The state reported about 100,000 people remained on the coast, after evacuation. Nearly 2 million people had evacuated from south Louisiana in the days before Gustav's arrival.
The city of New Orleans had the official reopening date on Thursday, Sept. 4, after crews had restored most electric power and other services. Damage assessments came as residents returned to inspect their properties. Damage included numerous trees down in various locations, The Associated Press reported on the floodwall along the Industrial Canal (the Inner Harbor Navigation Canal), which connects Lake Pontchartrain to the Mississippi River, and is susceptible to surges via the Gulf Outlet. High water splashed over the floodwalls onto new splash guards (designed to prevent foundation erosion), but the walls were not breached. Minor street flooding began in the upper Ninth Ward of New Orleans.
More than 60 vessels broke loose in area waterways, as some in the Industrial Canal threatened to strike its levees and pump facilities. American Explorer and USS Hunley (AS-31) struck the Florida Ave bridge causing damage. They then struck the concrete pile barriers that protected pump station #19 that served New Orleans 9th ward. The two military vessels were pinned to the wharf by US Coast Guard tugboats until they could be tied down. The freighter Courier (ex-Export Courier) and two barges were pushed into Alamonaster bridge (L & N railroad bridge) near the I-10 high rise bridge, above the natural gas pipeline.
The community of Houma, Louisiana and the surrounding area in south-central Louisiana sustained extensive wind damage. The winds blew off many roofs, blew windows out of houses and knocked down many trees and left much of the region without power. At Ellender High in Houma, the school's new gym was heavily damaged, with a rear wall collapsed.
Central Louisiana was also hard hit. Many trees and power lines were knocked down in that region as well, and many houses sustained damage from the winds and localized flooding. Part of the roof at the Alexandria Mall collapsed. The area's water supply was also hampered as power was knocked out to most of the water wells in the Alexandria and Pineville areas.
Damage and significant power outages were reported as far north as northern Louisiana, in the Interstate 20 corridor. The highest rainfall totals received thus far across the state include 16.37 inches near Bunkie, Louisiana, and 19.17 inches at Barataria Bay Pass.
President Bush declared 34 Louisiana parishes as disaster areas and visited the affected areas on September 3.
The National Weather Service reported 14 confirmed tornadoes spun by Gustav from Biloxi to Mobile. All during September 1, numerous tornado warnings (more than 100) were issued from Mobile all the way to Natchez, Mississippi, based on radar-rotation patterns that indicated strong circulating winds.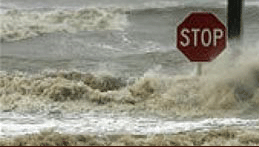 Mississippi, damage from Gustav was far less severe than that caused by Hurricane Katrina, with its 2005 storm surge of 27 ft; however, Gustav's storm surge as high as 15 feet (4.5 m) in places on the Mississippi Gulf Coast. Sections of U.S. Route 90 (including Gulfport and Biloxi) were flooded and some houses were flooded.
Information was compiled by Complete Inc., and the content of this document is the sole property of Complete Inc. and not to be reproduced without written permission.