Hurricane Ike Download Printable PDF here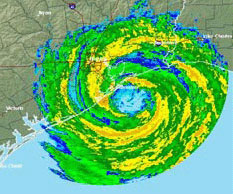 Hurricane Ike
Hurricane Ike came in as a cat 2 after badly damaging Cuba. This storm was remarkable in the amount of water that it pushed up against the coasts of Florida, Miss, La. and Texas. We had awful beach erosion from Destin Fl to the Galveston Bay. As far way as Destin many of the properties near the jetty experienced washout under the houses so as to expose the pilings and some had water in the bottom floor. In Ocean Springs and coastal Mississippi much of Hwy 90 was under water and some of the roads were damaged.
The most dramatic damage due to Ike was in Galveston where the surge was the worst in Texas. Many homes experienced serious damage after being swept off their pilings. The wind damage from Ike caused many trees to come down as well as serious window and roof damage in downtown Houston.
Hurricane Ike was the ninth named storm, fifth hurricane and third major hurricane of the 2008 Atlantic hurricane season. It was a Cape Verde-type hurricane, as it started as a tropical disturbance off the coast of Africa near the end of August, then tracked south of Cape Verde and slowly developed. On September 1, it became a tropical storm west of the Cape Verde islands.

Hurricane Early Storm Path
By the early morning hours of September 4, Ike was a Category 4 hurricane, hitting its peak with 145 mph winds and a pressure of 935 mbar. That made it the most intense storm so far in the 2008 Atlantic hurricane season. At one point the diameter of Ike's tropical storm and hurricane-force winds were 450 and 190 miles, respectively.
Hurricane Ike hit has been blamed for 147 deaths, primarily in Haiti, which was already trying to recover after the impact of three prior 2008 systems, Fay, Gustav, and Hanna, and in the United States, with many of the deaths taking place well inland. Damages from Ike in US coastal areas are estimated at $27 billion. If the estimates are accurate, Ike will be the fourth costliest Atlantic hurricane and third costliest U.S. hurricane of all time, behind both Hurricane Andrew of 1992 and Hurricane Katrina of 2005.
Damage in the United States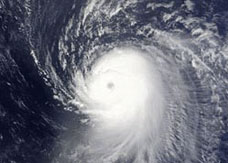 Due to the intensity of the storm, Texas closed many of its oil refineries. Because much of the United States oil refining capacity is located in Texas, the closings caused a temporary increase in the prices of gasoline, home heating oil, and natural gas.[63] News outlets like Fox Television called this spike in oil prices the "Ike Spike". Preliminary post-storm damage estimates in the US were placed at 18 billion US dollars (2008) as stated by the Australian Broadcasting Corporation [64].
Sixty-four deaths have been reported in the US — thirty-four in Texas, eight in Louisiana, one in Arkansas, two in Tennessee, one in Kentucky, seven in Indiana, four in Missouri, seven in Ohio and one in Pennsylvania.[65] On September 15, 2008 the United States Congress held a moment of silence for those who died in the hurricane.
Costliest U.S. Atlantic Hurricanes
| Rank | Hurricane | Season | Cost (2008 USD) |
| --- | --- | --- | --- |
| 1 | Katrina | 2005 | $81.2 billion |
| 2 | Andrew | 1992 | $40.7 billion |
| 3 | Ike | 2008 | $27.0 billion |
| 4 | Wilma | 2005 | $22.7 billion |
| 5 | Chaley | 2004 | $13.3 billion |
Main article:
List of costliest Atlantic hurricanes
Louisiana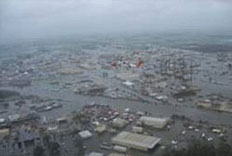 The storm surge ahead of Ike blew onshore onto the coast of Louisiana well ahead of Ike's predicted landfall in Texas on September 13. Areas in coastal south-central and southwestern Louisiana, some of which were flooded by Gustav, were re-flooded as a result of Ike. Some areas which had not yet recovered from Gustav power outages received additional outages, to the tune of 200,000. The hardest-hit areas were in and around Cameron Parish, which also sustained catastrophic damage in 2005 from Hurricane Rita and in 1957 from Hurricane Audrey. Nearly every square inch of the coastline in that area was flooded heavily once again, with floodwaters reaching as far north as Lake Charles.
Texas
When did Hurricane Ike hit Texas? On the morning of September 13, 2008, the eye of Hurricane Ike approached the Texas coast near Galveston Bay, making landfall at 2:10 a.m. CDT over the east end of Galveston Island. People in low-lying areas who had not heeded evacuation orders, in single-family one- or two-story homes, were warned by the weather service that they may "face certain death" from the overnight storm surge.
In regional Texas towns, electrical power began failing before 8 p.m. CDT, leaving millions without power (estimates range from 2.8 million to 4.5 million customers).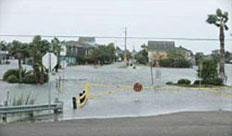 By 4 p.m. CDT on September 12, the rising storm surge began overtopping the 17-ft Galveston Seawall, which faces the Gulf of Mexico; waves had been crashing along the seawall earlier, from 9 a.m. CDT. Although Seawall Boulevard is elevated above the shoreline, many areas of town slope down behind the seawall to the lower elevation of Galveston Island.
Even though there were advance evacuation plans, Mary Jo Naschke, spokesperson for the city of Galveston, estimated that (as of Friday morning) a quarter of the city's residents paid no attention to calls for them to evacuate, despite predictions that most of Galveston Island would suffer heavy flooding storm tide. By 6 p.m. Friday night estimates varied as to how many of the 58,000 residents remained, but the figures of remaining residents were in the thousands. Widespread flooding included downtown Galveston: 6 ft. deep inside the Galveston County Courthouse, and the University of Texas Medical Branch at Galveston was flooded.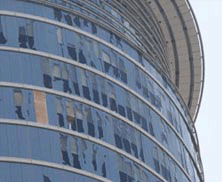 In Houston,
Windows also broke in downtown buildings such as the 75-story JP Morgan Chase Tower, and Reliant Stadium was damaged. On Bolivar Peninsula, Texas dozens of people were rescued as floodwaters exceeded 12 feet above sea level in advance of the hurricane. The peninsula bore the brunt of Ike's right-front quadrant, historically the worst part of a hurricane, and experienced catastrophic damage with the worst being between Rollover Pass and Gilchrist, Texas – west of High Island. Media estimates of lost homes exceed 80% and could top 95%. A large number of people who did not evacuate in advance of the storm remain unaccounted for.
NASA's Johnson Space Center suffered minor roof damage to Mission Control and minor cosmetic damage to some of its other buildings. NASA's operations at Ellington Field also sustained roof and awning damage.
As a historical comparison, on September 8, 1900 the Galveston Hurricane of 1900 landed along a path similar to Ike's, bringing with it a storm surge that inundated most of Galveston Island, then Texas' largest city and a major U.S. port. As a result, much of the city was destroyed and at least 6,000 people were killed in a few hours. Engineers subsequently increased the average elevation of the island by 4 feet and constructed a 17-foot seawall to block incoming waves.
Further Inland
Ike's storm total rainfall across the United States Main article: Effects of Hurricane Ike in inland North America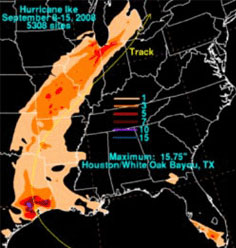 On September 14, after becoming extratropical and enhanced by an upper level shortwave trough, a major wind event took place across the lower and middle Ohio Valley, and significant rainfall and flooding took place to the west. Several areas in Illinois and Indiana, already flooded by the frontal boundary to the north, saw significant additional rainfall. Due to flooding in Chicago, Todd Stroger declared a state of emergency for Cook County.
Hurricane-force wind gusts were reported to the east of the center across parts of Kentucky, Indiana, Ohio and Pennsylvania with significant wind damage including structural damage to buildings and trees. The Louisville area declared a state of emergency due to major damage, and the Louisville International Airport was closed temporarily. A LG&E spokesperson said that this was the worst power outage in 30 years. Later in the day, a statewide state of emergency was declared in Kentucky by Governor Steve Beshear. Cincinnati-Northern Kentucky International Airport was also temporarily shut down, and the control tower was evacuated.
Ohio
In Cincinnati, numerous reports of roof damage were called in to law enforcement, and on September 15, most of the schools in Hamilton County and Butler County had classes cancelled because of power outages. Wind gusts of 75 miles per hour were recorded at Columbus, which is equivalent to sustained wind levels found in a Category 1 hurricane. Additionally, a state of emergency was declared in Ohio on Monday. Also in Salem, Indiana, wind gusts up to 81 miles per hour were recorded. In Indiana, high winds caused more than 200,000 customers to be without power throughout the state. Wind gusts of 63 miles per hour were recorded at Indianapolis International Airport. In total, 23 deaths have been blamed on Ike in the inland states.
Information was compiled by Complete Inc., and the content of this document is sole property of Complete Inc. and not to be reproduced without written permission.