Tampa is a major gulf coast community and the seat of Hillsborough county where we have conducted many insurance appraisal and expert witness assignments.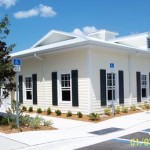 Complete loves Tampa and the surrounding cities and has since Gina Minor attended college at USF and John Minor worked downtown. Our love for that area has gotten stronger every year as we gain more and more great clients there. Tampa has grown leaps and bounds since my beginnings working in the city in 1993. I worked as a Construction Superintendent for HSA commercial services and worked at 100 N. Tampa in downtown. I was an early supporter of Ybor city and was on the Ybor development committee in the '90s when we were envisioning the city that the people of Tamp enjoy today.
We have developed relationships throughout the city working with some of the best engineers and experts the state has to offer. We are flood plain managers so while we love the city we understand that there is a ticking time bomb down there in St. Pete with its many pre-firm non-compliant single-family residences. A large flood event could change Hillsborough and Pinellas counties forever. However, careful navigation of the costs and codes associated with flood plain management can sometimes result in a win despite the challenges of the 50% rule. We, of course, have been called on to dispute sinkhole claims along Bayshore Drive in South Tampa.
I have been active in construction in this community on and off for the last two decades. We have restored properties as well as remodeled restaurants all over this market. I have worked many fire losses in the community and know most of the players in the property damage restoration industry as well. We serve this community equally out of our Gulf Breeze – Pensacola office mas well as our upper keys office.
Tampa Bay, Brandon, St Pete & Sarasota Florida Hurricanes: