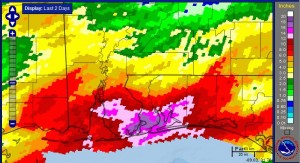 The flood damage to homes and businesses in northwest Florida has been devastating. Although these are stressful times for residents, Complete, Inc. works with property owners, property managers, attorneys, and municipalities after natural disasters such as massive flooding. Whether it's cost estimation, causation of property claims, general contracting, appraisals, or consulting, we can help you clean up the pieces and move forward. Check out our tips on what to do immediately after a flood.
Call your insurance agent to file a claim if your home has suffered any damage. Following the below tips will ensure a smoother process for filing claims.
Keep your power turned off until an electrician has inspected it for safety. Make sure to also boil your water before consumption until authorities tell you it is safe.
Go ahead and make any repairs to protect your home from further damage. Just make sure to document the damages along with any repairs you make—taking photos and keeping receipts are a good idea.
Round up any copies of your household inventory and/or documentation, and take photos if necessary. Make a list of any damaged or lost items. By providing this information, your insurance adjuster can better assess the value of any destroyed property.
If you are unable to continue living in your home safely, don't try. Temporarily set up shop somewhere else, but give your forwarding address and contact information to your insurance company or agent. A large number of residences have been impacted and applicants are encouraged to register online at http://www.disasterassistance.gov/ to help reduce wait times at the FEMA Disaster Survival Assistance Teams' Escambia County location. FEMA will verify eligibility and need before assistance is offered. Also, if you are interested in helping those affected by the flood,  for a list of agencies in need of volunteers for recovery efforts.
Always hire reputable businesses to service your home — there are many unlicensed contractors and home repair scams you should be aware of. In doing business, warning signs of an unlicensed contractor include:
Relying on verbal contracts solely. Always make to sure obtain written contracts for any services to be performed.
Not providing proof of general liability insurance or worker's compensation.
Stating that a permit is not required or asking you to obtain the permit yourself.
Only providing a Business Tax Receipt instead of an actual license.
Complete, Inc. is a licensed general contracting firm providing for complex restoration of properties damaged by water, wind, fire or construction defect. When you hire Complete Contractors, you can rest assured you are receiving the utmost service — we have an excellent attention to detail and 17 years of experience under our belts. Contact us today to learn how we can help you in your time of need.