Timeline, Aftermath & Statistics
Hurricane Michael roared into the Gulf of Mexico Oct. 9, 2018 as a late-season storm that was not expected to turn into 155 Now 160 miles per hour sustained on the Florida Panhandle. Making landfall the next day in Mexico Beach, Florida, the Category 4 Now Cat 5 hurricane was the strongest storm of the season and the third-most intense Atlantic hurricane in decades — and hit in my back yard.
Damage estimated at approximately $15 billion from both the wind and flood wreaked havoc on homes, businesses, commercial and communities.
Hurricane Micheal Timeline of Events
October 2, 2018
The Southwestern Caribbean Sea and a broad area of low pressure begins forming. A large enough area that the National Hurricane Center begins monitoring it. As the system pushes northward it begins a tighter and more organized formation.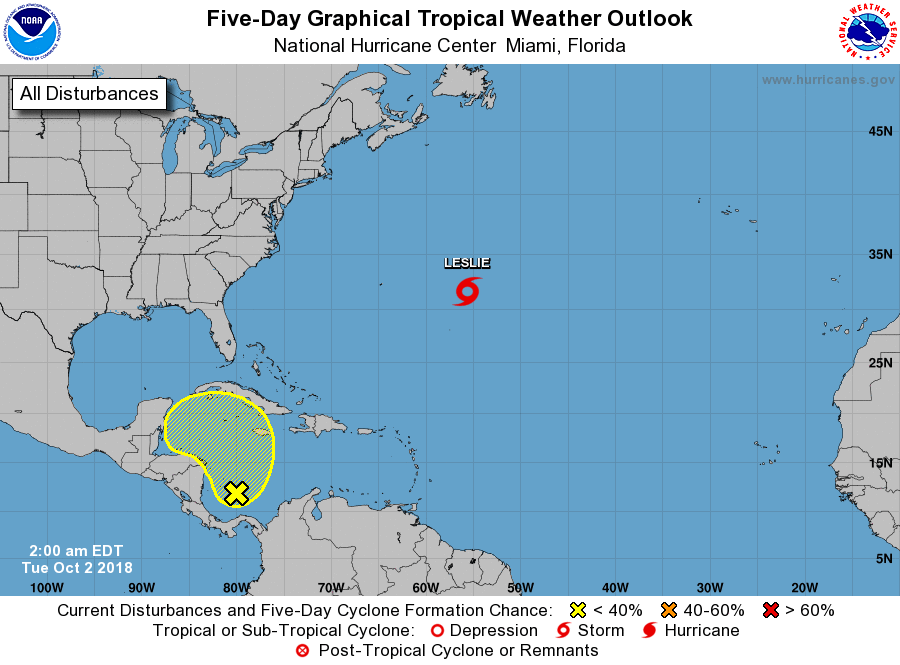 October 4, 2018
What is now officially characterized as a "system" continues on the northeast toward the Yucatan Peninsula.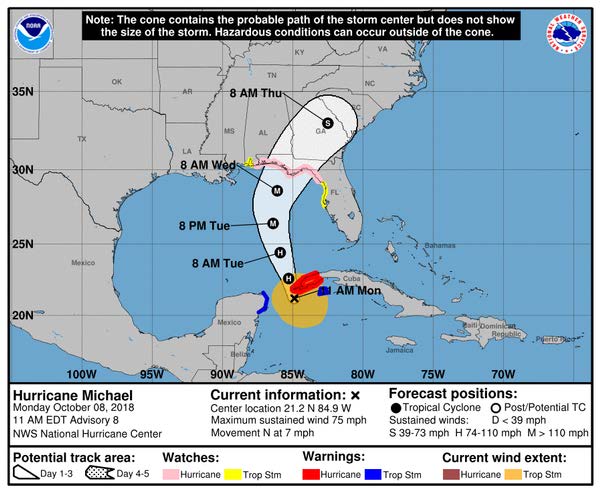 October 5–6, 2018
According to the NOAA which is now monitoring the system, what would become Michael has now developed into a well-organized convection. It was definitely a storm but lacked the circulation to officially be labeled a Tropical Storm. It did, however, pose an immediate land threat to the Yucatan Peninsula and Cuba.
At this time the National Hurricane Center issued advisories on the potential formation of Cyclone Number 14 on October 6th. Within 12 hours the storm increased to a tropical depression with 50 mph sustained winds and now a predicted trajectory to both accelerate and make landfall into the Southeastern United States in the new few days. The government of Cuba also issues a Tropical Storm Warning for the areas of Pinar Del Rio and Isle of Youth. Mexico follows Cuba's lead with a Tropical Storm for the areas for the coast of the Yucatan Peninsula and Cabo Catoche. The current strength and makeup of the system are expected to hammer Central America, Cuba and the Northeastern Yucatan Peninsula with potential flash flooding and heavy rainfall. NOAA and the NHC alert area governments that the system is forecasted to become a Tropical Storm by Sunday night.
October 7, 2018
By morning, the system was officially a Tropical Depression due to a closed center of circulation, with a significantly organized convective pattern to bale to classify the system into Tropical Storm Michael at 4:55 pm that day.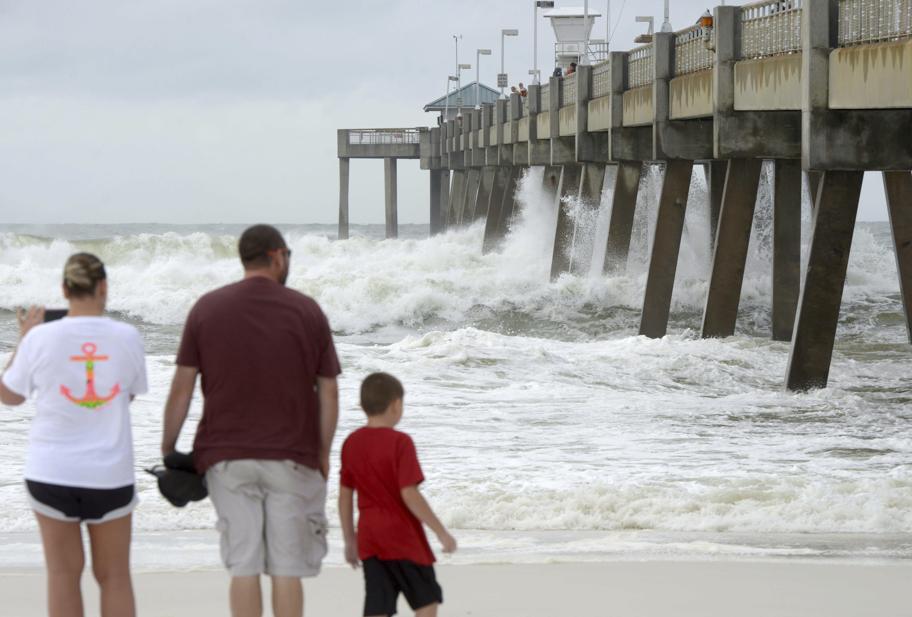 October 8, 2018
Reconnaissance aircraft reports the cloud pattern of the storm becomes much more organized and rapid intensification occurs. Tropical Storm Michael becomes Hurricane Michael officially. Deep bursts of convection are noted within the eyewall and the powerful storm passes through the Yucatan Peninsula into the Gulf of Mexico clipping the western edge of Cuba and dumping massive amounts of rainfall onto the island. Simultaneously a nearly 35 nautical mile wide was reported to be forming perfectly.
October 9, 2018
By 9:00 pm due to rapid intensification Michael had become a major hurricane. In the span of only 6 hours, the central pressure within the eye had dropped rapidly to 20mb.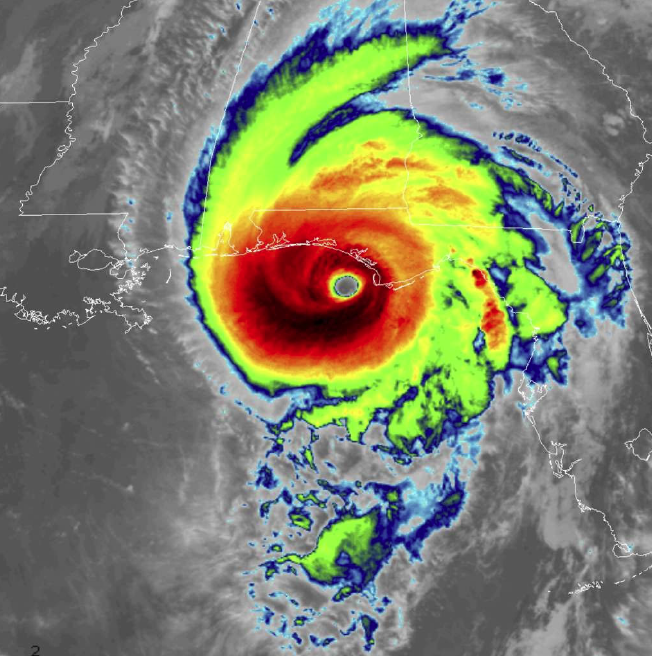 October 10, 2018
Past Hurricane models forecasted Michael to rapidly strengthen over the next three days to become a dangerous and major hurricane by October 10. Rapid intensification along with a well-defined eye appeared. Making Michael's strength to peak by the end of the day. The storm was sitting just below Category 5 levels of intensity with maximum sustained winds of 155 mph.
As Hurricane Michael chugged along at 13 mph it made landfall on the Gulf Coast of the United States in Mexico Beach, Florida later that day. By the amount of pressure within the storm, the storm surge was expected to reach between 9 and up to 13 feet in the hardest-hit areas. This proved to be dead on with 14 foot above MSL in Mexico Beach. Check the inundation map for your details from the USGS but know that many of the houses at ground zero Mexico Beach were built slab on grade compliant 6 ft above msl and the flood was 8 foot above that.
Ranking by pressure makes Hurricane Michael the third most intense Atlantic hurricane to ever make landfall in the United States. Most noteworthy before making landfall was the speed at which Micheal intensified while chugging over the warm waters of the Gulf of Mexico: sea surface temperatures along Michael's track were approximately 0.75-1.5°C warmer than average. This aided Michael in intensifying from a 35 mph tropical depression to a 145 mph hurricane in only 72 hours.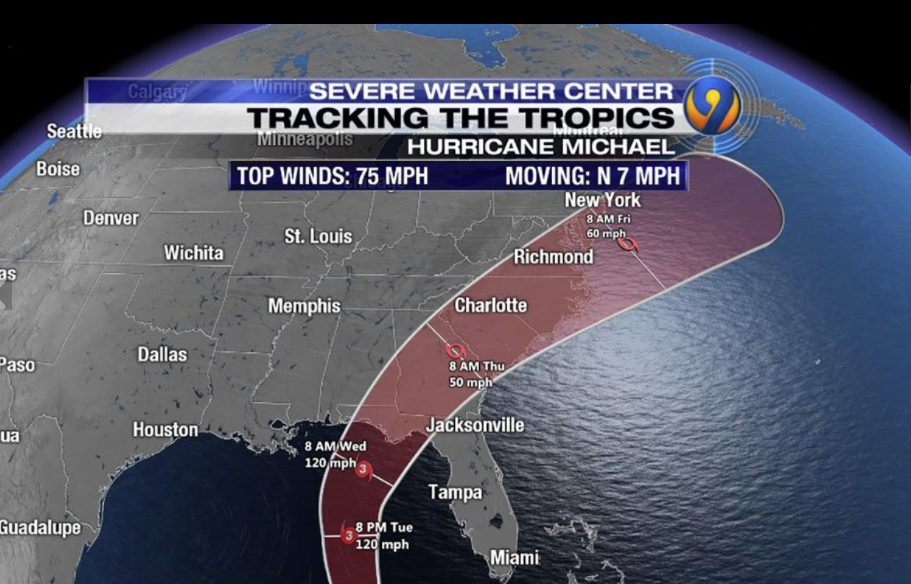 October 11, 2018
Hurricane Michael damage then continued Northeast, affecting the majority of the Florida Panhandle, Georgia, and eastern Alabama. At 4:00 pm EDT, the eye was located in Jackson County, FL, moving forward at 15 mph with maximum sustained wind speeds of 140 mph. The eye crossed into Seminole County, GA, around 6:00 pm EDT as a Category 3 hurricane, traveling forward at 13 mph with maximum sustained wind speeds of 115 mph. It weakened to a Category 2 hurricane by 7:00 pm EDT as it traveled across southern Georgia, with maximum sustained wind speeds of 100 mph. As Hurricane Michael moved over the inner Southeastern United States it began to rapidly weaken, the eye dissipated from satellite view. The ability of this storm to retain its strength as it tore thru the timber of North West Fl. will be studied for decades and may be a forecast of things to come.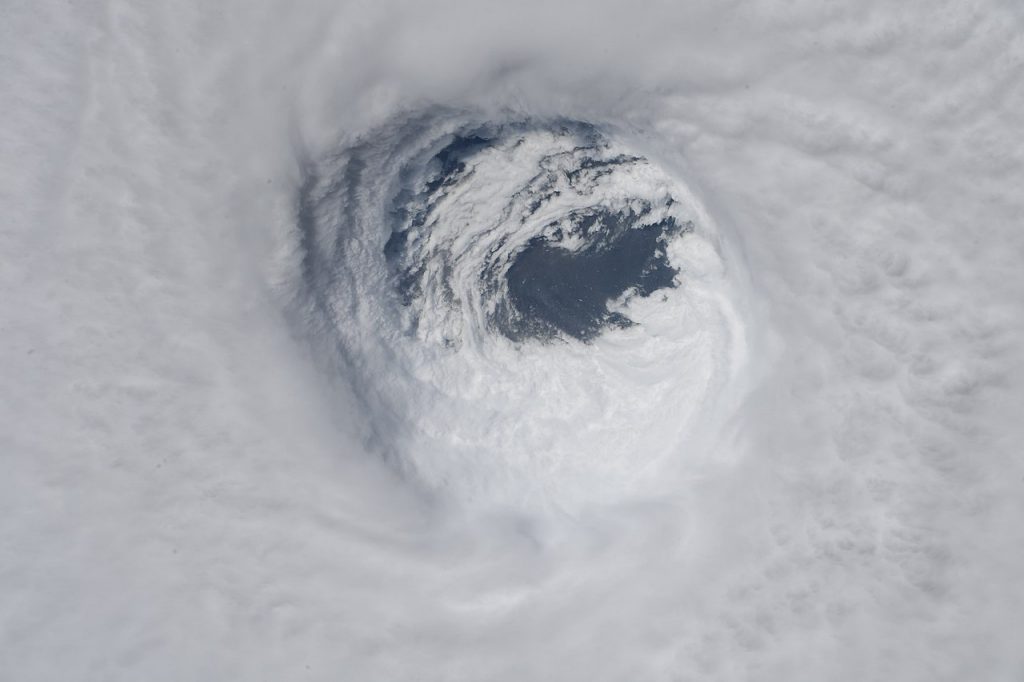 October 12, 2018
Within 12 hours the storm had weakened to a Tropical Storm at around 12:00 am on October 11 the inner core of the storm collapsed, with the eye dissipating over central Georgia. Although it was in a weakened state, Michael continued to batter Georgia and the Carolinas with rain, tornadoes, and tropical storm-level winds (Fig. 3). In conclusion, Michael was a fast storm escalating from tropical storm to Category 4 hurricane and back to a tropical storm in just three days.
October 13-16, 2018
Michael subsequently accelerated east back out over the Atlantic Ocean and strengthened, into a powerful cyclone by October 14. On October 15, Michael ended its run by making landfall in Portugal early on October 16. Following landfall, what was left of Michael quickly weakened, dissipating later on the same day. But along the Florida Panhandle the devastation was done.
Impact of the Storm
Storm Surge
All along the panhandle in addition to the hurricane force winds from Michael produced massively high tides along the coast. A view of just how high the storm surge went along the coast can be seen below. Apalachicola recorded a storm surge of 8.50 ft. Why was the storm surge produced by Michael so high?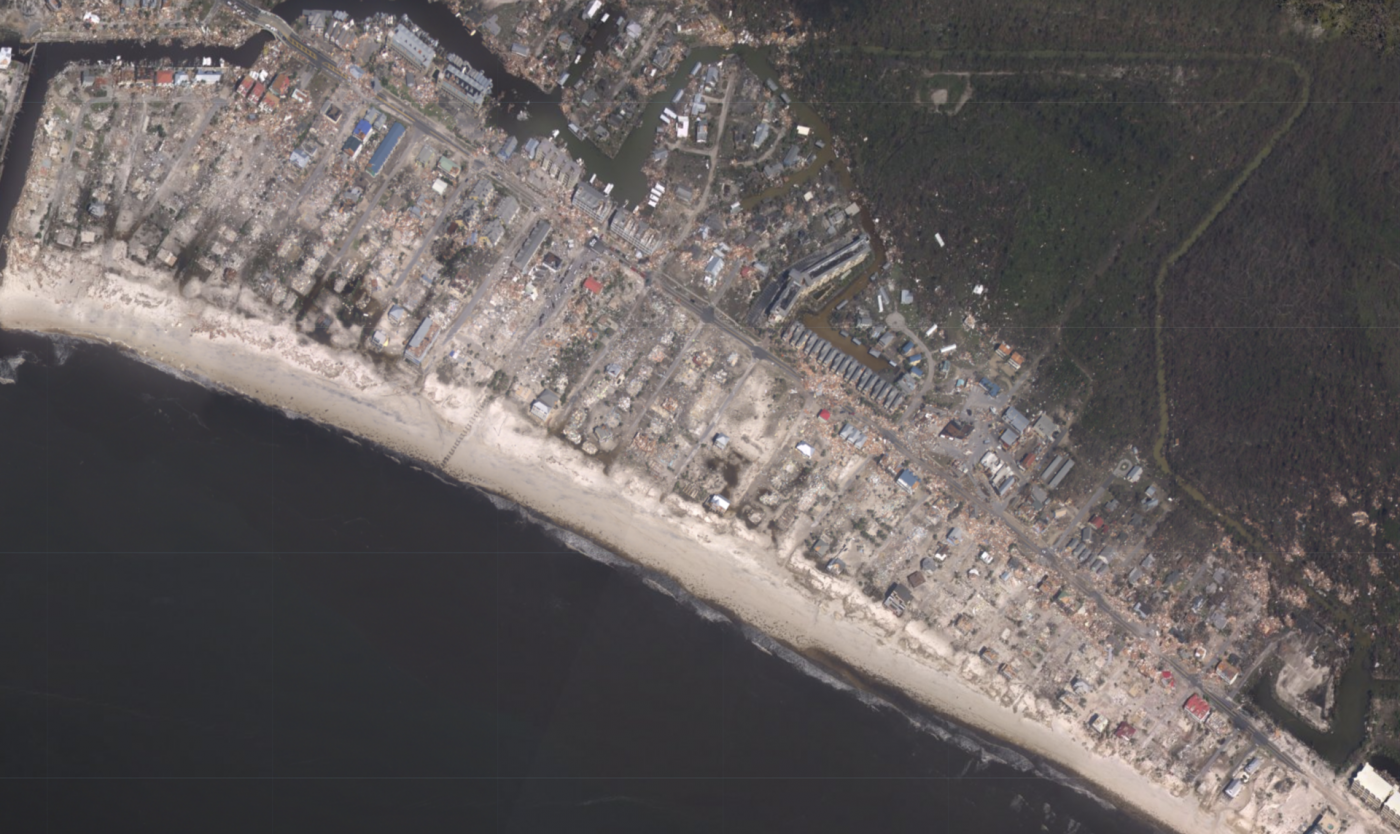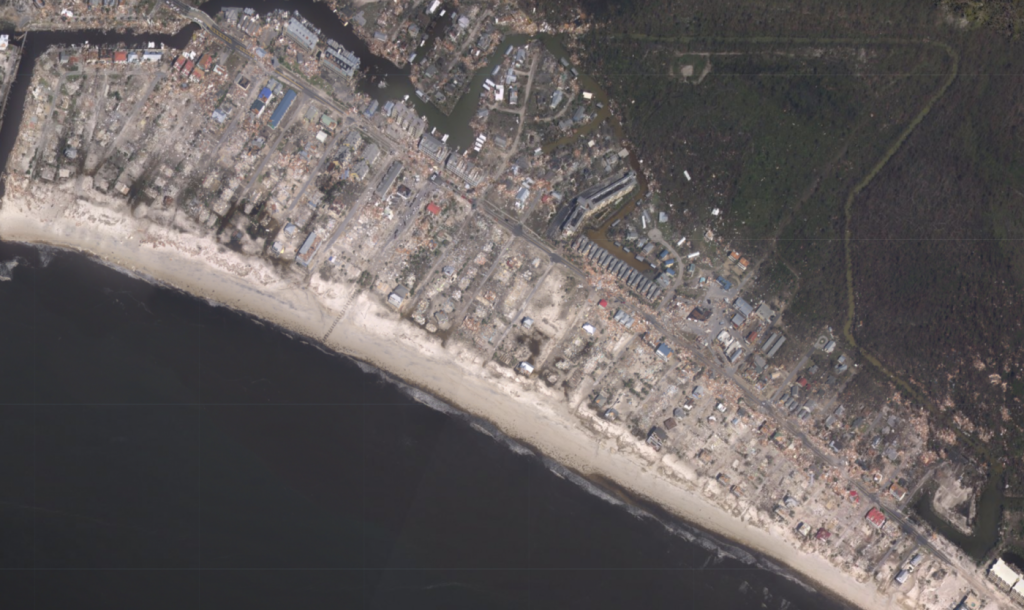 As mentioned the storm surge pushed up to 8.50 ft in some areas and The Weather Channel has reported that surviving surges more than nine feet is "highly unlikely." The reason being is that anything that can shove that much water inland most certainly can push large objects along its path. Anything from large debris to large cars can become killers with a storm this strong. Over further to the east from the eyewall in Apalachicola the winds were obviously weaker. However, because of the shape of the coastline the surge was just as powerful. According to storm surge specialist for the National Hurricane Center Jamie Rhone added, "Because of the coastline shape "It gets pinched tighter and tighter and higher and higher as the water goes over an increasingly narrow space. That's why we saw the 9-to-14 foot forecast extend so far east of the eyewall."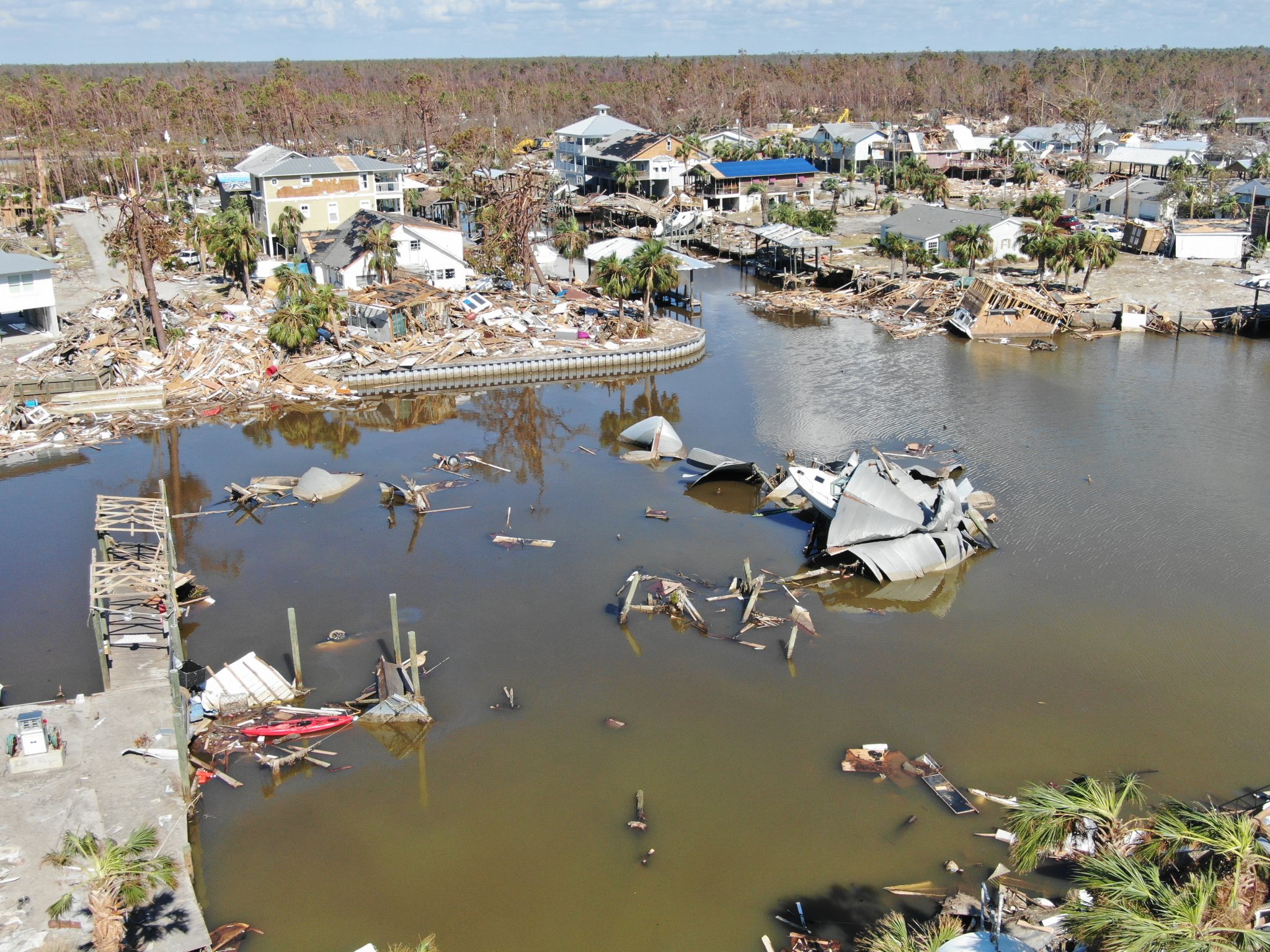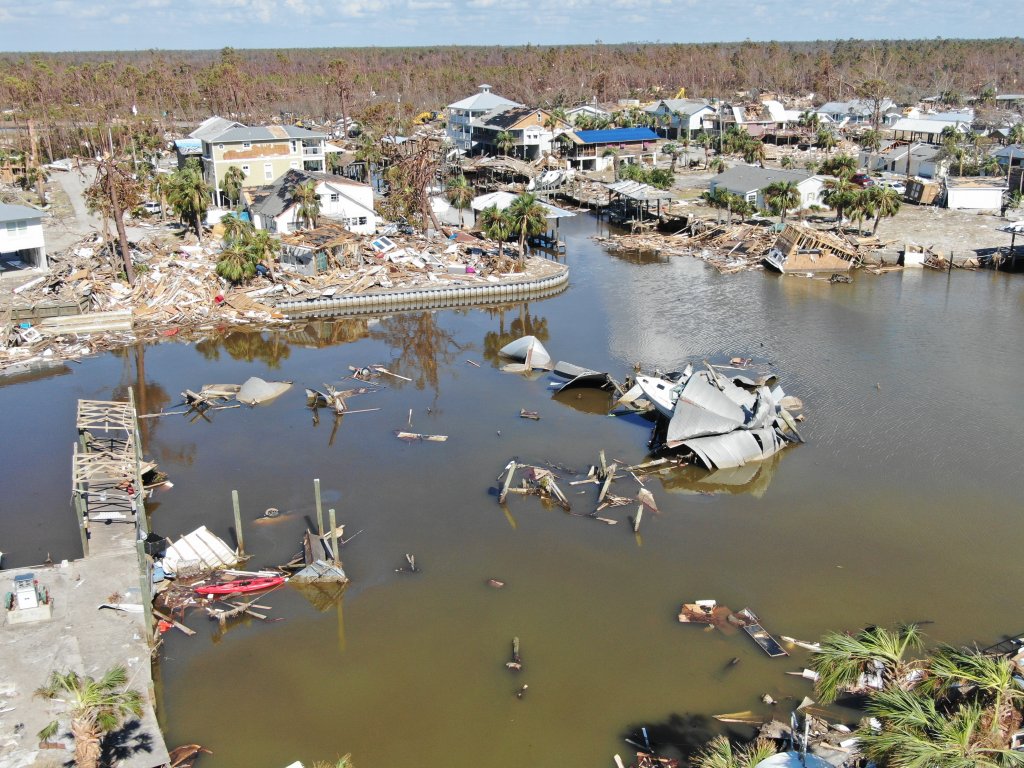 Another factor that comes into play when a storm like Michael hits is if the tide is high at the time then the surge can be much higher and more dangerous. Fortunately for Panhandle residents, the area was at low tide when the storm came ashore. Even so, according to the Storm Surge Unit at the National Hurricane Center's tweet below they predicted 9 – 13ft of inundation from Michael's surge.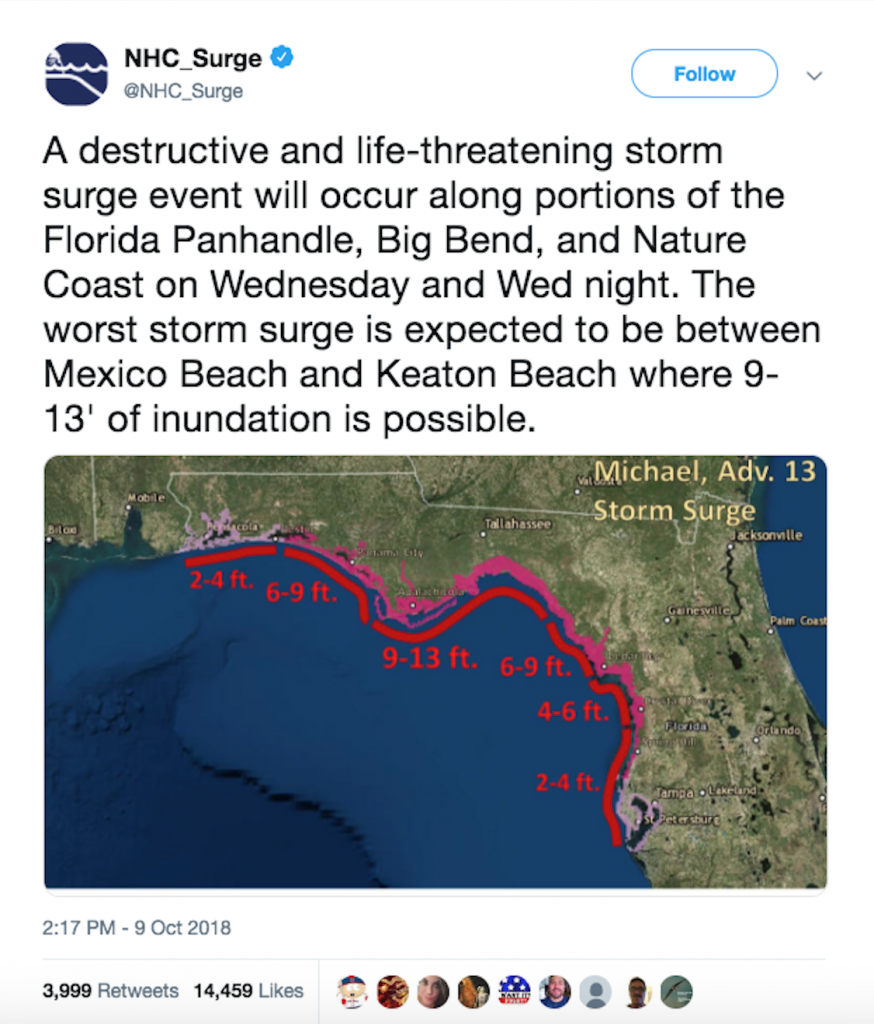 As Michael pushed inland away from the coast a surge warning for over 400 miles of coastline still remained in effect. Forecasters quickly made surge models so that first responders would know what to expect as far as damage along the coast.
Rainfall & Flooding
Michael was a very fast-moving storm. The bad news when dealing with a fast-moving storm is that state, local and federal agencies are dealing with a shorter timeline to prepare for Michael to make landfall. The good news is that a fast-moving storm like Michael shows up and moves on without sticking around to continue pounding a particular area with rains and devastation. As reported by the Weather Channel, Michael in fact spread rains far and wide from down in the Panhandle of Florida to the mid-Atlantic and up through New England, but since it did move fast the flooding was not as bad as it could have been like it was for storms like Harvey last year in Texas. Still, there were over 200 reports of flash flooding in the 48 hours from when Michael first made landfall. All of it was attributed to Michael.
Surprisingly a majority of the flooding reports were not in Florida where Michael first made landfall but instead in Virginia. These prompted flash flood warnings from the National Weather Service across areas already still soaked previously from Hurricane Florence. Areas included Daniville, Richmond and Roanoke, among other locations in Virginia.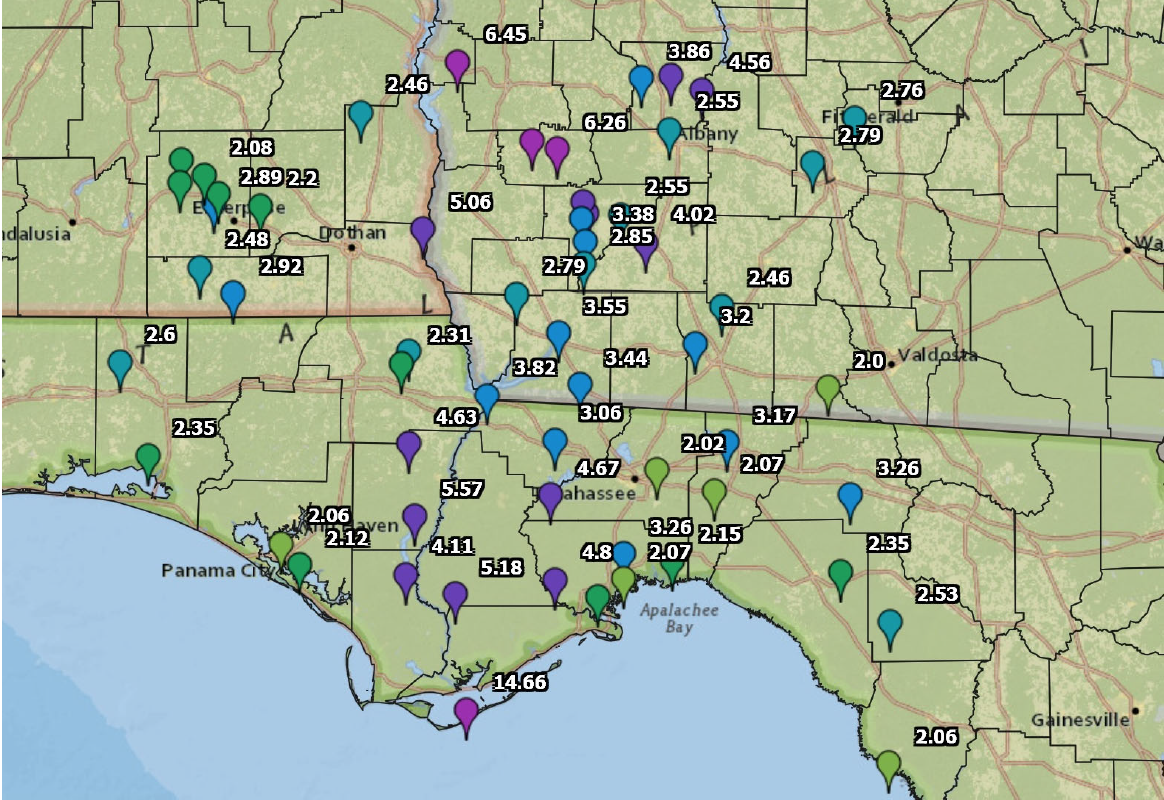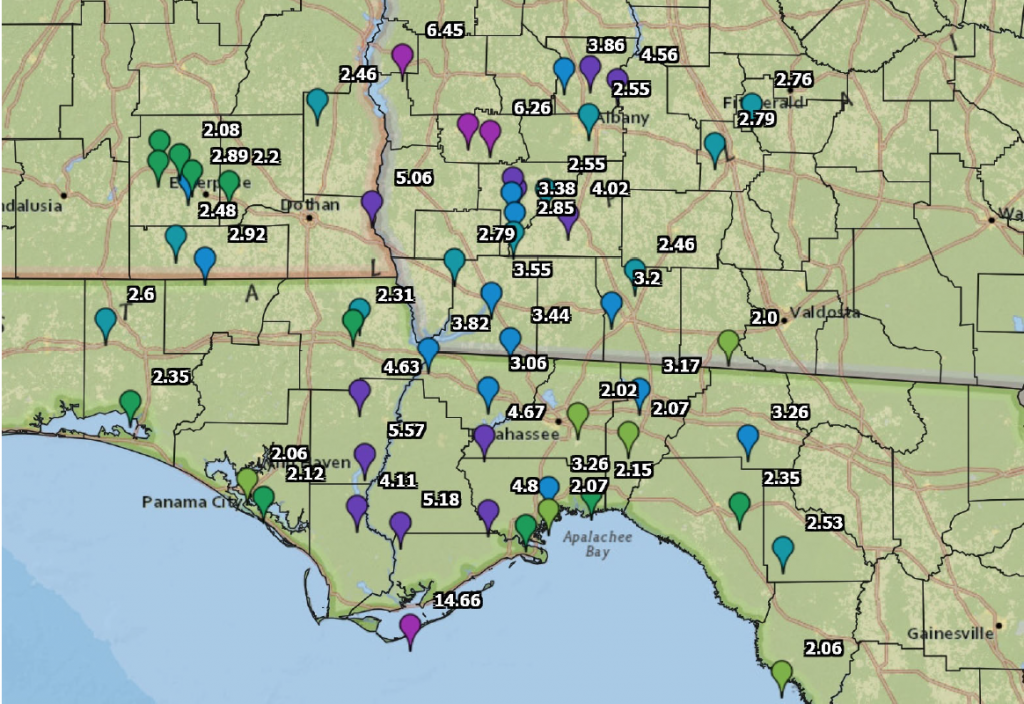 Winds
Hurricane Michael was massive and winds were registered from where the storm made landfall in Florida to Washington DC all the way north to some parts of New Jersey. The figure below shows some of the wildest and strongest gusts following Michael's immediate landfall and progression inland. These figures were captured from the meteorological stations throughout the state of Florida. At the time of Michael's landfall gusts from the center of the storm registered as high as 129mph in Panama City. The gusts also reached out to 175 miles from the storm's eyewall.
Some of the other reported wind gusts were 89 mph in Apalachicola, 71 mph in Tallahassee. Other notable maximum wind gusts in Donalsonville, GA up to 115 mph. And keep in mind that these are the observations that were isolated by instruments in the area. There were likely gusts far inland that were higher in other locales where instruments were not in place or had failed due to destruction altogether. One example was that the Florida Coastal Monitoring Program (FCMP) that Complete is involved with deployed three towers prior to Hurricane Michael making landfall. One of the towers located near Tyndall Air Force base recorded gusts up to 130 mph before being destroyed. Hurricane-force winds were recorded from Apalachicola to St. George Island.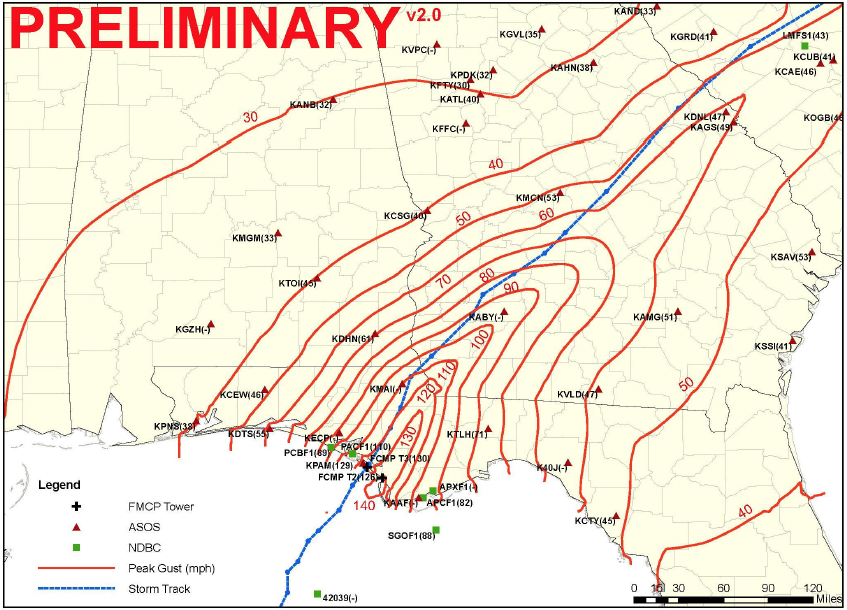 Additional Hurricane Michael Resources Available for Download: