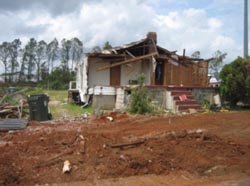 Nearly three months after monstrous tornado ravaged Tuscaloosa and neighboring cities, business as usual is still a reality out of reach.  While great strides have been made, the road to recovery is still a long and difficult one.  To date, the U.S. Army Corps of Engineers has removed 7.8 million cubic yards of debris from the affected areas and FEMA funds are pouring into the community by the millions, along with personal donations of money and supplies from across the country; yet the number of families displaced from their homes is staggering.  More than 7,600 Alabama families are receiving temporary rental assistance from FEMA and 245 families are living in FEMA-provided manufactured homes.   As many as  85,119 individuals and households have registered for housing assistance, according to a FEMA  spokesperson.
To donate, visit www.redcross.org or call 1-800-RED CROSS or text the word REDCROSS to 90999 to make a $10 donation. Contributions may also be sent to the American Red Cross, P.O. Box 37243, Wash. DC 20013.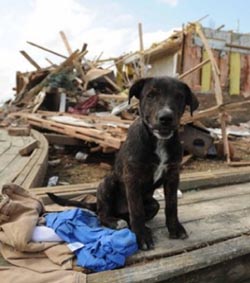 With insurance claims gaining momentum, State regulators now expect around 90,000 claims as a result of April's storms. Jeff Amy, of the Alabama Press-Register. speculates that "even if the industry resolves 98 percent of them, there could be close to 2,000 disputes." While Mr. Amy's estimate of disputes might fall far below the actual number realized in the end, it is evident in these early phases of claims negotiations that many in the public-at-large are concerned and dismayed by the claims process as a whole. A 2010 survey by the National Association of Insurance Commissioners showed only 41% of respondents said they felt knowledgeable when making insurance decisions — less than half of those insured.
In many of these instances of honest disagreement appraisal, as found and described in the policy, can be one of the most effective methods of resolving a disputed claim. Depending on the policy, the process consists of an appraiser selected by each side and a third party (umpire) agreed by the two appraisers or appointed by the Court. Any agreement of two of the three sets the value of the loss. In some cases, this cannot provide the remedy or prevent litigation, but for checkbook disputes, Appraisal is the best way to go in a much more efficient and timely fashion.
The owners and staff of Complete continue to hold the families of Tuscaloosa and surrounding cities close to our hearts. We would be honored to put our years of experience in negotiating large-loss claims as appraisers, umpires, and experts to work on either side because when you call it straight the numbers are the same.
Complete General Contractors, Inc. specializes in hurricane damage restoration from residential, commercial, industrial and by municipality. John Minor has worked post-hurricane sites since Opal in 1995; his experience is far reaching – from the Carolinas to Texas and all along the coast of Florida. The staff of Complete can meet with you to review your preparedness plan, and we will be there afterwards should you ever need us. We specialize in the actual restoration, prevention, as well as dispute resolution of a claim.Call the company the pros choose – call Complete.
This information should not be substituted for professional legal advice; consult with your lawyer for legal advice and ask your insurance professional to discuss the details of your policy and insurance needs.