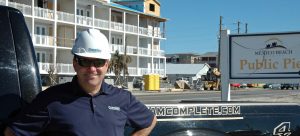 Complete is a group of specialized experts led by president and general contractor John Minor providing forensic engineering project management and consulting services throughout the United States to put our clients ahead. We work as professional engineers, certified general contractors, flood plain managers, building consultants, trial experts, appraisers and umpires. Our corporate office is in in Pensacola, FL but we have many locations throughout the southeast and the islands.
We love that we get to speak for the building and really get involved in a solution that works. Our group provides millions in agreed property damage value recommendations to property owners, insurers and their clients each year in our role as building consultants. Our commercial side has been active in the resolution in some very large losses over the last two decades as appraisers and experts following a career of hard construction restoring buildings. Providing hard won expertise and confident project management, Complete is dedicated to the formation of lasting client relationships and solutions. With its core values of trust, integrity, and being responsive to client needs, Complete is a humble leader in the industry.
Founded in North Carolina in 1997, Complete provides services to select property owners, businesses and governmental agencies as well as clients in the insurance and legal industries. By establishing a reputation for thoroughness and reliability, Complete has come to be respected as a leader in construction, appraisal, and alternative dispute resolution services.
---
Services we provide:
Forensic Engineering – Our inspections include structural hurricane, and construction defect damage assessments and recommendations by our state licensed professional engineers. Bill Adams PE IV leads the engineering services provided by Complete relying on his 4 decades in the field as a structural and civil engineer.
Project Management – Our general and roofing contractors understand complex construction schedules, costs, budget, specs and codes. If your project needs cost estimating or other construction management our teams have the knowledge and expertise on custom coastal and high end constructions.
Insurance Claims Appraisal – Serving in the formal alternative dispute resolution process included in most residential, commercial and industrial insurance policies. With our years of experience in appraisal, Windstorm certifications, and a lifetime spent on real construction projects, Complete can conduct thorough appraisals and accurate restoration cost estimates to resolve claims in the appraisal process. Much of our experience is in large loss wind and flood claims for school districts, municipalities, commercial or multifamily residential.
Insurance Claims Umpire/Neutral – Several in our group serve as neutral umpire or arbitrator privileged to be a part of the resolution of complex and difficult property insurance claims in the Appraisal Process both appraiser agreed and court appointed.
Expert Witness – Complete provides expert witness services for cases involving construction defect or damage due to natural disasters. We have trial experience in land use, floodplain, hurricane VPL and construction defect.
Diagnostics – Visible water intrusion damage is usually the end result of a chain of issues related to storm damages or construction defect. Complete utilizes best-in-the-industry tools and reproducible techniques for documenting conditions on damaged structures.
Complete provides the expertise to uncover the source of a problem and outline exactly how to restore a property and prevent future issues. Call Complete today to see how we can take care of the details so you or your policyholders can get back to taking care of business.