Building codes, laws and requirements for construction and restoration projects can vary wildly from state-to-state. Complete is a licensed contractor in many states across the country, and knows the ins and outs of each particular jurisdiction. Our team holds many additional licenses and certifications that allow us to work for a wide variety of clients and serve multiple needs on our projects.
By keeping our team licensed in multiple disciplines in multiple states, we can handle many aspects of construction, restoration, appraisal and diagnostic services in house. This leads to quicker turn around and a higher quality outcome by reducing the number of parties involved in the assignment.
The following list of licenses, certificates and endorsements shows the range of services we are legally authorized to provide. The images shown here may not reflect our most recent renewals or updates, but rest assured that Complete maintains all of our licenses and certifications, allowing us to get to work on your project quickly and in accordance with all local laws and regulations.
Should you have any questions, feel free to give us a call at Complete. We are happy to hear from you and it will be our pleasure to help you with your construction or restoration project.
Complete General Contractors, Inc. is a licensed contractor in:
North Carolina [NC #42065]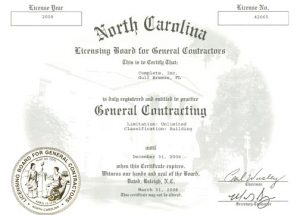 South Carolina [SC #101184]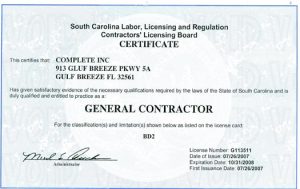 Florida [#5956874]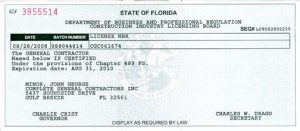 Additional Licenses and Certifications:
Certified Floodplain Manger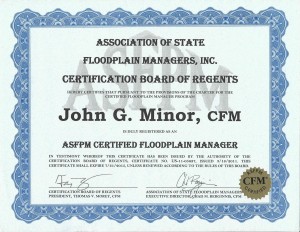 Louisiana Department of Insurance Licensed Insurance Appraiser
See John Minor's Current License >>
WIND Advanced Umpire Certification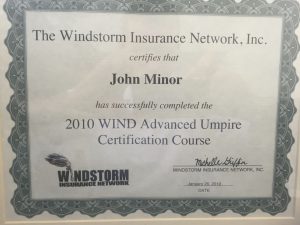 Hazardous Waste Operations and Emergency Response COC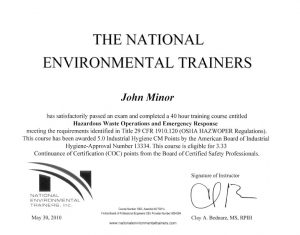 All licenses are current, website photos may not reflect recent renewals.
To search for the most current Florida License, feel free to visit myFlorida.com.