Flood Warning
Arkansas
State Weather Alerts
Flood Warning
...from The National Weather Service In Little Rock...the Flood Warning Continues For The Following River In Arkansas... Ouachita River At Camden Affecting Calhoun And Ouachita Counties River Forecasts Are Based On Current Conditions And Rainfall Forecasted To Occur Over The Next 24 Hours. During Periods Of Flooding...evening Forecasts Are Reissued With Updated Rainfall ...Read More.
Effective: February 28, 2020 at 8:15pmExpires: March 1, 2020 at 3:00amTarget Area: Calhoun; Ouachita
Flood Warning
...the Flood Warning Continues For The Following Rivers In Arkansas...mississippi...louisiana.. Mississippi River Near Arkansas City Affecting Chicot...desha... Bolivar And Washington Counties Mississippi River Near Greenville Affecting Chicot...east Carroll...issaquena And Washington Counties ...Read More.
Effective: February 28, 2020 at 8:10pmExpires: March 5, 2020 at 12:00pmTarget Area: Chicot; Desha
Flood Warning
...the Flood Warning Continues For The Following Rivers In Arkansas...mississippi...louisiana.. Mississippi River Near Arkansas City Affecting Chicot...desha... Bolivar And Washington Counties Mississippi River Near Greenville Affecting Chicot...east Carroll...issaquena And Washington Counties ...Read More.
Effective: February 28, 2020 at 8:10pmExpires: March 7, 2020 at 10:00amTarget Area: Chicot
Flood Warning
...from The National Weather Service In Little Rock...the Flood Warning Continues For The Following River In Arkansas... Ouachita River At Thatcher L&d Affecting Bradley...calhoun And Union Counties River Forecasts Are Based On Current Conditions And Rainfall Forecasted To Occur Over The Next 24 Hours. During Periods Of ...Read More.
Effective: February 28, 2020 at 8:07pmExpires: February 29, 2020 at 11:07amTarget Area: Bradley; Calhoun; Union
Flood Warning
...from The National Weather Service In Little Rock...the Flood Warning Continues For The Following River In Arkansas... Cache River Near Patterson Affecting Jackson And Woodruff Counties River Forecasts Are Based On Current Conditions And Rainfall Forecasted To Occur Over The Next 24 Hours. During Periods Of Flooding...evening Forecasts Are Reissued With Updated Rainfall ...Read More.
Effective: February 28, 2020 at 8:05pmExpires: February 29, 2020 at 11:05amTarget Area: Jackson; Woodruff
Flood Warning
...from The National Weather Service In Little Rock...the Flood Warning Continues For The Following River In Arkansas... White River At Augusta Affecting White And Woodruff Counties White River At Georgetown Affecting Prairie...white And Woodruff Counties White River At Des Arc Affecting Prairie County ...Read More.
Effective: February 28, 2020 at 8:02pmExpires: February 29, 2020 at 11:01amTarget Area: Arkansas; Monroe
Flood Warning
...from The National Weather Service In Little Rock...the Flood Warning Continues For The Following River In Arkansas... White River At Augusta Affecting White And Woodruff Counties White River At Georgetown Affecting Prairie...white And Woodruff Counties White River At Des Arc Affecting Prairie County ...Read More.
Effective: February 28, 2020 at 8:02pmExpires: February 29, 2020 at 11:01amTarget Area: Prairie
Flood Warning
...from The National Weather Service In Little Rock...the Flood Warning Continues For The Following River In Arkansas... White River At Augusta Affecting White And Woodruff Counties White River At Georgetown Affecting Prairie...white And Woodruff Counties White River At Des Arc Affecting Prairie County ...Read More.
Effective: February 28, 2020 at 8:02pmExpires: February 29, 2020 at 11:01amTarget Area: Prairie; White; Woodruff
Flood Warning
...from The National Weather Service In Little Rock...the Flood Warning Continues For The Following River In Arkansas... White River At Augusta Affecting White And Woodruff Counties White River At Georgetown Affecting Prairie...white And Woodruff Counties White River At Des Arc Affecting Prairie County ...Read More.
Effective: February 28, 2020 at 8:02pmExpires: February 29, 2020 at 11:01amTarget Area: White; Woodruff
Flood Warning
...from The National Weather Service In Little Rock...the Flood Warning Continues For The Following River In Arkansas... Black River At Black Rock Affecting Independence...jackson And Lawrence Counties River Forecasts Are Based On Current Conditions And Rainfall Forecasted To Occur Over The Next 24 Hours. During Periods Of ...Read More.
Effective: February 28, 2020 at 7:55pmExpires: February 29, 2020 at 10:55amTarget Area: Independence; Jackson; Lawrence
Flood Warning
The Flood Warning Continues For The Ouachita River At Felsenthal Lock And Dam. * Until Further Notice...or Until The Warning Is Cancelled. * At 6:30 Pm Friday The Stage Was 79.3 Feet. * Minor Flooding Is Occurring And Minor Flooding Is Forecast. * Flood Stage Is 70.0 Feet. ...Read More.
Effective: February 28, 2020 at 7:01pmExpires: February 29, 2020 at 6:59pmTarget Area: Ashley; Union
Flood Warning
The Flood Warning Continues For The Mississippi River. The Flood Warning Continues For The Mississippi River At Memphis * Until Sunday March 01. * At 10 Am Friday The Stage Was 35.0 Feet. * Minor Flooding Is Occurring And Minor Flooding Is Forecast. ...Read More.
Effective: February 28, 2020 at 11:01amExpires: March 2, 2020 at 6:00amTarget Area: Crittenden
Flood Warning
The Flood Warning Continues For The Mississippi River. The Flood Warning Continues For The Mississippi River At Caruthersville * Until Tuesday March 03. * At 10 Am Friday The Stage Was 37.1 Feet. * Minor Flooding Is Occurring And Minor Flooding Is Forecast. ...Read More.
Effective: February 28, 2020 at 11:01amExpires: March 4, 2020 at 4:30pmTarget Area: Mississippi
Flood Warning
The Flood Warning Continues For The Mississippi River. The Flood Warning Continues For The Mississippi River At Osceola * Until Wednesday March 04. * At 10 Am Friday The Stage Was 34.3 Feet. * Moderate Flooding Is Occurring And Moderate Flooding Is Forecast. ...Read More.
Effective: February 28, 2020 at 11:01amExpires: March 5, 2020 at 10:48amTarget Area: Mississippi
Flood Warning
The Flood Warning Continues For The Mississippi River. The Flood Warning Continues For The Mississippi River At Tunica Riverpark * Until Thursday March 05. * At 10 Am Friday The Stage Was 46.8 Feet. * Moderate Flooding Is Occurring And Moderate Flooding Is Forecast. ...Read More.
Effective: February 28, 2020 at 11:01amExpires: March 6, 2020 at 10:00amTarget Area: Lee
Flood Warning
The Flood Warning Continues For The Bayou Dorcheat Near Springhill. * Until Late Tuesday Night...or Until The Warning Is Cancelled. * At 9:00 Am Friday The Stage Was 12.5 Feet. * Minor Flooding Is Occurring And Minor Flooding Is Forecast. * Flood Stage Is 11.0 Feet. ...Read More.
Effective: February 28, 2020 at 10:02amExpires: March 4, 2020 at 12:00amTarget Area: Columbia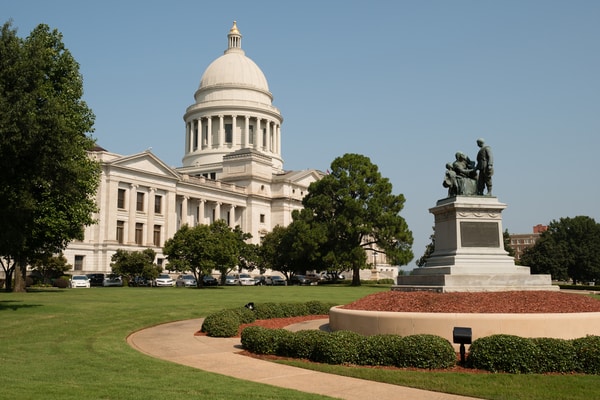 Arkansas Frequent Weather Alerts: Extreme heat, heavy rainfall, ice storms, thunderstorms, hail, tornadoes
Part of the southeastern United States, Arkansas has the typical subtropical climate you'd expect to find in this region. Summers are hot and steamy and the winters are mild and comfortable.
Winter
While the snowfall in Arkansas is only about 5 inches per year, low pressure systems in the region can occasionally create ice storms that make traveling dangerous.
Summer
Extreme heat alerts are common during the summer with temperatures in the low 90's and sometimes reach triple digits. The high humidity makes temperatures feel even hotter than they already are, and puts vulnerable people like children and seniors at risk. Heavy rain is also experienced during late summer as remnants of hurricanes and tropical storms track northward.
Spring and Fall
Spring is the wettest season in Arkansas. Severe thunderstorms are common and some of them are accompanied by hail or generate tornadoes. Tornadoes are experienced regularly in the state, causing a fair amount of flooding and property damage. In the fall, as is true in the summer, leftover tropical storms and hurricanes can bring heavy amounts of rainfall.
Complete Inc. is a licensed general contracting, construction consulting, and insurance appraisal/umpire claims firm