Flood Warning
Iowa
State Weather Alerts
Flood Warning
.updated Flood Information For The Mississippi River. River Forecasts Include Past Precipitation And Forecast Rainfall For The Next 24 Hours. ...flood Warning Now In Effect Until Wednesday Evening... The Flood Warning Continues For The Mississippi River At Gladstone Ld18. ...Read More.
Effective: June 29, 2020 at 10:39amExpires: July 2, 2020 at 1:00pmTarget Area: Des Moines
Flood Warning
.updated Flood Information For The Mississippi River. River Forecasts Include Past Precipitation And Forecast Rainfall For The Next 24 Hours. ...flood Warning Remains In Effect Until Thursday Morning... The Flood Warning Continues For The Mississippi River At Burlington. ...Read More.
Effective: June 29, 2020 at 10:39amExpires: July 2, 2020 at 7:00pmTarget Area: Des Moines; Lee
Flood Warning
...the National Weather Service In Quad Cities Has Issued A Flood Warning For The Following Rivers In Iowa...illinois... Mississippi River At Keithsburg Affecting Des Moines...louisa... Henderson And Mercer Counties River Forecasts Include Past Precipitation And Forecast Rainfall For The Next 24 Hours. ...Read More.
Effective: June 29, 2020 at 7:00pmExpires: June 30, 2020 at 7:00pmTarget Area: Des Moines; Louisa
Flood Warning
.updated Flood Information For The Cedar And Iowa Rivers. River Forecasts Include Past Precipitation And Forecast Rainfall For The Next 24 Hours. ...flood Warning Now In Effect Until This Morning... The Flood Warning Continues For The Cedar River At Cedar Bluff. ...Read More.
Effective: June 29, 2020 at 10:13amExpires: June 30, 2020 at 4:08amTarget Area: Cedar; Johnson
Flood Warning
.updated Flood Information For The Cedar And Iowa Rivers. River Forecasts Include Past Precipitation And Forecast Rainfall For The Next 24 Hours. ...flood Warning Now In Effect Until Tuesday... The Flood Warning Continues For The Iowa River At Marengo. ...Read More.
Effective: June 29, 2020 at 10:13amExpires: July 1, 2020 at 11:30amTarget Area: Benton; Iowa
Flood Warning
.updated Flood Information For The Cedar And Iowa Rivers. River Forecasts Include Past Precipitation And Forecast Rainfall For The Next 24 Hours. ...flood Warning Now In Effect Until Thursday Morning... The Flood Warning Continues For The Iowa River At Wapello. ...Read More.
Effective: June 29, 2020 at 10:13amExpires: July 3, 2020 at 1:00amTarget Area: Louisa
Flood Warning
.updated Flood Information For The Cedar And Iowa Rivers. River Forecasts Include Past Precipitation And Forecast Rainfall For The Next 24 Hours. ...flood Warning Now In Effect Until Thursday Evening... The Flood Warning Continues For The Cedar River Near Conesville. ...Read More.
Effective: June 29, 2020 at 10:13amExpires: July 3, 2020 at 1:00pmTarget Area: Cedar; Louisa; Muscatine
Flood Warning
.updated Flood Information For The Cedar And Iowa Rivers. River Forecasts Include Past Precipitation And Forecast Rainfall For The Next 24 Hours. ...flood Warning Now In Effect Until Thursday Evening... The Flood Warning Continues For The Iowa River At Oakville. ...Read More.
Effective: June 29, 2020 at 10:13amExpires: July 3, 2020 at 1:00pmTarget Area: Louisa
Flood Warning
.updated Flood Information For The Wapsipinicon River. River Forecasts Include Past Precipitation And Forecast Rainfall For The Next 24 Hours. ...flood Warning Now In Effect Until Sunday Morning... The Flood Warning Continues For The Wapsipinicon River Near De Witt 4s. ...Read More.
Effective: June 29, 2020 at 10:07amExpires: July 6, 2020 at 4:00amTarget Area: Clinton; Scott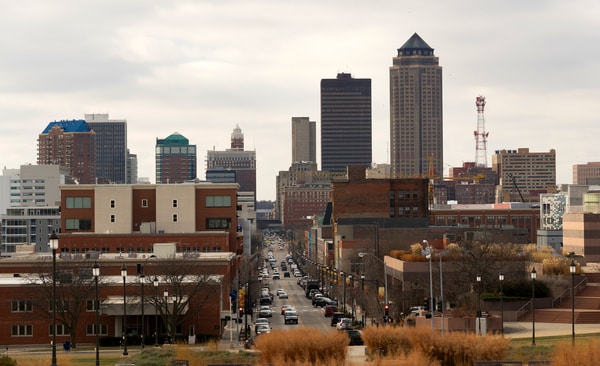 Iowa Frequent Weather Alerts: Flooding, tornadoes, thunderstorms, ice storms, and snowstorms.
With no mountains to protect it from bitter cold Arctic air masses or the Gulf of Mexico's humid air, Iowa's climate has extreme cold and heat. Temperatures have wide ranges in Iowa, with cold winters and hot summers.
Bordered by rivers on the east and west sides and having thousands of miles of river waters flowing through the actual State, flooding is a very real hazard. The above average rainfall in recent years has increased the number of floods occurring in the State.
Spring & Summer
With the beginning of spring comes Iowa's season of severe weather. Thunderstorms are common and can bring cause flooding and tornadoes. Iowa has about 30 tornadoes per year.
Known for the heat and humidity, summer also happens to be Iowa's wettest season. Thunderstorms during this time can be intense and produce destructive winds, hail and tornadoes.
Winter
Harsh and cold, ice storms and snowstorms are frequent dangers that characterize the coldest time of year. Heavy snowfall and high winds can make large snow drifts and cause whiteout conditions, making travel very hazardous. Bitter cold is another hazard. Wind chills below zero degrees cause even lower temperatures that can harm you and your property and any alerts, advisories or warnings should be taken seriously.
Complete Inc. is a licensed general contracting, construction consulting, and insurance appraisal/umpire claims firm