Flood Warning
North Carolina
State Weather Alerts
Flood Warning
...the Flood Warning Is Extended For The Following Rivers In North Carolina... Northeast Cape Fear River Near Chinquapin Affecting Duplin County ...flood Warning Extended Until Wednesday Morning...the Flood Warning Extended For The Northeast Cape Fear River Near Chinquapin. ...Read More.
Effective: May 30, 2020 at 3:53pmExpires: June 3, 2020 at 8:00amTarget Area: Duplin
Flood Warning
...the Flood Warning Continues For The Following Rivers In North Carolina... New River At Gum Branch Affecting Onslow County The Flood Warning Continues For The New River At Gum Branch. * Until Further Notice. ...Read More.
Effective: May 30, 2020 at 3:07pmExpires: May 31, 2020 at 3:06pmTarget Area: Onslow
Flood Warning
...the Flood Warning Has Been Extended For The Following Rivers... Cape Fear At William O Huske Lock And Dam 3 Affecting Bladen And Cumberland Counties Nc Cape Fear At Elizabethtown Affecting Bladen County Nc Waccamaw At Conway Affecting Horry County Sc ...the Flood Warning Continues For The Following Rivers... ...Read More.
Effective: May 30, 2020 at 11:38amExpires: May 31, 2020 at 3:38amTarget Area: Pender
Flood Warning
...the Flood Warning Has Been Extended For The Following Rivers... Cape Fear At William O Huske Lock And Dam 3 Affecting Bladen And Cumberland Counties Nc Cape Fear At Elizabethtown Affecting Bladen County Nc Waccamaw At Conway Affecting Horry County Sc ...the Flood Warning Continues For The Following Rivers... ...Read More.
Effective: May 30, 2020 at 11:38amExpires: May 31, 2020 at 3:38amTarget Area: Robeson
Flood Warning
...the Flood Warning Has Been Extended For The Following Rivers... Cape Fear At William O Huske Lock And Dam 3 Affecting Bladen And Cumberland Counties Nc Cape Fear At Elizabethtown Affecting Bladen County Nc Waccamaw At Conway Affecting Horry County Sc ...the Flood Warning Continues For The Following Rivers... ...Read More.
Effective: May 30, 2020 at 9:00pmExpires: June 3, 2020 at 6:30pmTarget Area: Bladen
Flood Warning
...the Flood Warning Has Been Extended For The Following Rivers... Cape Fear At William O Huske Lock And Dam 3 Affecting Bladen And Cumberland Counties Nc Cape Fear At Elizabethtown Affecting Bladen County Nc Waccamaw At Conway Affecting Horry County Sc ...the Flood Warning Continues For The Following Rivers... ...Read More.
Effective: May 30, 2020 at 11:38amExpires: June 4, 2020 at 5:00pmTarget Area: Bladen; Cumberland
Flood Warning
...the Flood Warning Continues For The Following Rivers In North Carolina... Little River At Manchester Affecting Cumberland County The Flood Warning Continues For The Little River At Manchester. * At 10:15 Am Saturday The Stage Was 19.5 Feet. * Flood Stage Is 18.0 Feet. ...Read More.
Effective: May 30, 2020 at 10:27amExpires: June 1, 2020 at 5:36amTarget Area: Cumberland
Flood Warning
...the Flood Warning Continues For The Following Rivers In North Carolina... Neuse River Near Clayton Affecting Johnston County ...the Flood Warning Continues For The Following Rivers In North Carolina... Neuse River At Smithfield Affecting Johnston County ...Read More.
Effective: May 30, 2020 at 10:25amExpires: May 30, 2020 at 10:26pmTarget Area: Johnston
Flood Warning
...the Flood Warning Continues For The Following Rivers In North Carolina... Neuse River Near Clayton Affecting Johnston County ...the Flood Warning Continues For The Following Rivers In North Carolina... Neuse River At Smithfield Affecting Johnston County ...Read More.
Effective: May 30, 2020 at 10:25amExpires: June 1, 2020 at 8:00pmTarget Area: Johnston
Flood Warning
...the Flood Warning Continues For The Following Rivers In North Carolina... Lower Roanoke River At Roanoke Rapids Affecting Halifax And Northampton Counties Lower Roanoke River Near Scotland Neck Affecting Halifax And Northampton Counties ...Read More.
Effective: May 30, 2020 at 10:23amExpires: May 30, 2020 at 10:23pmTarget Area: Halifax; Northampton
Flood Warning
...the Flood Warning Continues For The Following Rivers In North Carolina... Lower Roanoke River At Roanoke Rapids Affecting Halifax And Northampton Counties Lower Roanoke River Near Scotland Neck Affecting Halifax And Northampton Counties ...Read More.
Effective: May 30, 2020 at 10:23amExpires: May 30, 2020 at 10:23pmTarget Area: Halifax; Northampton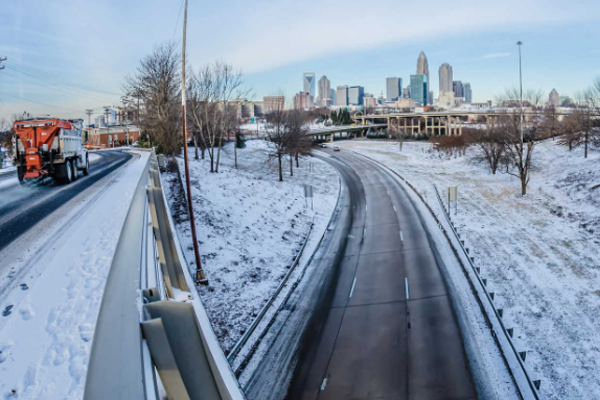 North Carolina Frequent Weather Alerts:
Severe thunderstorms, tropical storms, hurricanes, snow and ice storms, floods, tornadoes
North Carolina, found in the southeastern United States, is a state with diverse topography and weather and climate patterns that are just as diverse. Immense precipitation often threatens the state with flooding and other associated weather disasters.
Severe Thunderstorms, Hurricanes, and Tropical Storms
Many hurricanes can come through North Carolina, and there have been a number in the past 3 decades that were at their worst in the Tar Heel State. In 1999, Hurricane Floyd dropped almost 2 feet of rain, and in 2004, Frances brought over half a foot of rain.
Hurricanes and severe thunderstorms don't only bring rain – at times, these strikes can bring tornadoes. For example, central and eastern North Carolina were slammed with multiple tornadoes as a result of the aforementioned Frances. A severe thunderstorm in April of 2011 produced 30 tornadoes statewide, as well.
Snow and Ice Storms
Due to its location, North Carolina doesn't always see a lot of snow – but when it does, it can close down infrastructure for a number of days. They usually get at least one significant snowstorm every year, with most of the snow centered in the Appalachian Mountain parts of the state. The state is more likely to get ice storms, which cause slick conditions on the roads and walkways.
Complete Inc. is a licensed general contracting, construction consulting, and insurance appraisal/umpire claims firm