Flood Warning
Oklahoma
State Weather Alerts
Flood Warning
The National Weather Service In Tulsa Has Issued A * Flood Warning For... Southeastern Wagoner County In Northeastern Oklahoma... West Central Cherokee County In East Central Oklahoma... * Until 230 Pm Cdt. * At 1124 Am Cdt, Doppler Radar Indicated Pockets Of 1 To 2 Inches ...Read More.
Effective: May 27, 2020 at 11:29amExpires: May 27, 2020 at 2:30pmTarget Area: Cherokee
Flood Warning
The National Weather Service In Tulsa Has Issued A * Flood Warning For... Southeastern Wagoner County In Northeastern Oklahoma... West Central Cherokee County In East Central Oklahoma... * Until 230 Pm Cdt. * At 1124 Am Cdt, Doppler Radar Indicated Pockets Of 1 To 2 Inches ...Read More.
Effective: May 27, 2020 at 8:58amExpires: May 29, 2020 at 10:15pmTarget Area: Wagoner
Flood Warning
...the Flood Warning Continues For The Following Rivers In Arkansas...oklahoma... Arkansas River At Van Buren Affecting Crawford And Sebastian Counties. Arkansas River At Ozark Lock And Dam Affecting Franklin...johnson And Logan Counties. ...Read More.
Effective: May 27, 2020 at 9:34amExpires: May 29, 2020 at 11:07amTarget Area: Le Flore
Flood Warning
...the Flood Warning Continues For The Following Rivers In Oklahoma... Illinois River Near Tahlequah Affecting Cherokee County. ...flood Warning Extended Until Late Tonight... The Flood Warning Continues For The Illinois River Near Tahlequah. ...Read More.
Effective: May 27, 2020 at 9:14amExpires: May 28, 2020 at 3:24amTarget Area: Cherokee
Flood Warning
...the Flood Warning Continues For The Following Rivers In Oklahoma... Neosho River Near Commerce Affecting Ottawa County. ...flood Warning Extended Until Friday Evening... The Flood Warning Continues For The Neosho River Near Commerce. ...Read More.
Effective: May 27, 2020 at 8:58amExpires: May 29, 2020 at 10:15pmTarget Area: Ottawa
Flood Warning
...the Flood Warning Is Extended For The Following Rivers In Oklahoma...arkansas...texas... Red River Near Dekalb Affecting Red River, Mccurtain, Little River And Bowie Counties. ...Read More.
Effective: May 27, 2020 at 8:35amExpires: May 28, 2020 at 8:30pmTarget Area: McCurtain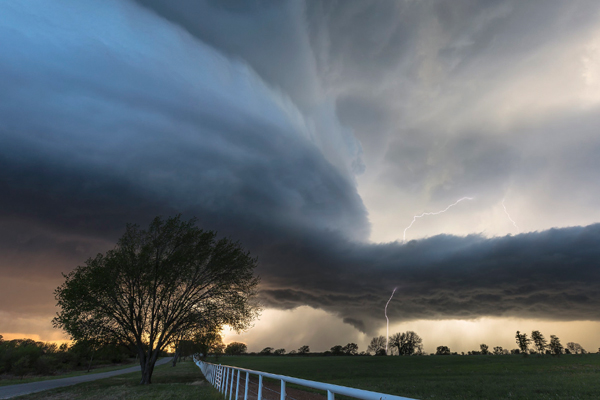 Oklahoma Frequent Weather Alerts:
Tornadoes, severe thunderstorms, floods, drought, ice storms
The climate of Oklahoma, as well as the severe weather it gets, is largely influenced by where you are in the state. In the southern portion of the state, it can be extremely hot in the summer and much colder in the winter, and these extremes are largely constant. Rainfall is very heavy in the south as well, while the west gets very little rain.
Freezing rain can be severe in the west, damaging powerlines and icing over roads, so traveling in the winter can be dangerous. Floods also can occur as a result of spring and summer storms, so having property near a river will put you at risk for some flood damage.
In the regions were not too much rain can be found, the risk of drought can also be a severe issue since rainfall is where most of the state's usable rainfall comes from. But the largest risk, no matter where you are is the risk of tornadoes, since the state has one of the largest numbers of tornado occurrences in the world. They mostly occur in the springtime and can bring heavy winds with them, causing widespread damage across the state.
Complete Inc. is a licensed general contracting, construction consulting, and insurance appraisal/umpire claims firm