Flood Warning
South Carolina
State Weather Alerts
Flood Warning
...observed Flooding Changed From Minor To Moderate Severity For The Following Rivers In South Carolina... ...forecast Flooding Changed From Minor To Moderate Severity For The Following Rivers In South Carolina... Wateree River Near Camden Affecting Kershaw County .recent Heavy Rainfall Will Continue Flooding Through Sunday. ...Read More.
Effective: May 30, 2020 at 3:48pmExpires: June 1, 2020 at 1:24pmTarget Area: Kershaw
Flood Warning
The Flood Warning Continues For The Santee River Near Jamestown. * At 2 Pm Saturday The Stage Was 17.2 Feet. * Flood Stage Is 10.0 Feet. * Moderate Flooding Is Occurring. * Forecast, The River Will Rise To Near 17.4 Feet By Early Sunday ...Read More.
Effective: May 30, 2020 at 3:41pmExpires: May 31, 2020 at 3:41pmTarget Area: Berkeley; Georgetown; Williamsburg
Flood Warning
...the Flood Warning Has Been Extended For The Following Rivers... Cape Fear At William O Huske Lock And Dam 3 Affecting Bladen And Cumberland Counties Nc Cape Fear At Elizabethtown Affecting Bladen County Nc Waccamaw At Conway Affecting Horry County Sc ...the Flood Warning Continues For The Following Rivers... ...Read More.
Effective: May 30, 2020 at 11:38amExpires: May 31, 2020 at 3:38amTarget Area: Darlington; Florence
Flood Warning
...the Flood Warning Has Been Extended For The Following Rivers... Cape Fear At William O Huske Lock And Dam 3 Affecting Bladen And Cumberland Counties Nc Cape Fear At Elizabethtown Affecting Bladen County Nc Waccamaw At Conway Affecting Horry County Sc ...the Flood Warning Continues For The Following Rivers... ...Read More.
Effective: May 30, 2020 at 11:38amExpires: May 31, 2020 at 3:38amTarget Area: Florence
Flood Warning
...the Flood Warning Has Been Extended For The Following Rivers... Cape Fear At William O Huske Lock And Dam 3 Affecting Bladen And Cumberland Counties Nc Cape Fear At Elizabethtown Affecting Bladen County Nc Waccamaw At Conway Affecting Horry County Sc ...the Flood Warning Continues For The Following Rivers... ...Read More.
Effective: May 30, 2020 at 11:38amExpires: May 31, 2020 at 3:38amTarget Area: Florence; Marion
Flood Warning
...the Flood Warning Has Been Extended For The Following Rivers... Cape Fear At William O Huske Lock And Dam 3 Affecting Bladen And Cumberland Counties Nc Cape Fear At Elizabethtown Affecting Bladen County Nc Waccamaw At Conway Affecting Horry County Sc ...the Flood Warning Continues For The Following Rivers... ...Read More.
Effective: May 30, 2020 at 11:38amExpires: May 31, 2020 at 3:38amTarget Area: Horry; Marion
Flood Warning
...the Flood Warning Has Been Extended For The Following Rivers... Cape Fear At William O Huske Lock And Dam 3 Affecting Bladen And Cumberland Counties Nc Cape Fear At Elizabethtown Affecting Bladen County Nc Waccamaw At Conway Affecting Horry County Sc ...the Flood Warning Continues For The Following Rivers... ...Read More.
Effective: May 30, 2020 at 5:00pmExpires: May 31, 2020 at 3:38amTarget Area: Horry
Flood Warning
...forecast Flooding Changed From Minor To Moderate Severity For The Following Rivers In South Carolina... Black At Kingstree Affecting Williamsburg County ...forecast Flooding Increased From Minor To Moderate Severity... The Flood Warning Continues For The Black At Kingstree. ...Read More.
Effective: May 30, 2020 at 11:28amExpires: May 31, 2020 at 3:27amTarget Area: Williamsburg
Flood Warning
The Flood Warning Continues For The Savannah River At Burtons Ferry. * At 10 Am Saturday The Stage Was 15.6 Feet. * Flood Stage Is 15.0 Feet. * Minor Flooding Is Occurring. * Forecast, The River Will Continue Rising To Near 16.0 Feet By Early ...Read More.
Effective: May 30, 2020 at 10:33amExpires: May 31, 2020 at 10:32amTarget Area: Allendale
Flood Warning
The Flood Warning Continues For The Savannah River Near Clyo. * At 10 Am Saturday The Stage Was 12.1 Feet. * Flood Stage Is 11.0 Feet. * Minor Flooding Is Occurring. * Forecast, The River Will Continue Rising To Near 12.9 Feet By ...Read More.
Effective: May 30, 2020 at 10:33amExpires: May 31, 2020 at 10:32amTarget Area: Hampton; Jasper
Flood Warning
...the Flood Warning Continues For The Following Rivers In South Carolina... Congaree River At Carolina Eastman Affecting Calhoun...lexington And Richland Counties Congaree River At Congaree National Park-gadsden Affecting Calhoun And Richland Counties ...Read More.
Effective: May 30, 2020 at 10:23amExpires: June 2, 2020 at 4:00pmTarget Area: Calhoun; Lexington; Richland
Flood Warning
...the Flood Warning Continues For The Following Rivers In South Carolina... Congaree River At Carolina Eastman Affecting Calhoun...lexington And Richland Counties Congaree River At Congaree National Park-gadsden Affecting Calhoun And Richland Counties ...Read More.
Effective: May 30, 2020 at 10:23amExpires: June 2, 2020 at 8:00pmTarget Area: Chesterfield; Marlboro
Flood Warning
...the Flood Warning Continues For The Following Rivers In South Carolina... Congaree River At Carolina Eastman Affecting Calhoun...lexington And Richland Counties Congaree River At Congaree National Park-gadsden Affecting Calhoun And Richland Counties ...Read More.
Effective: May 30, 2020 at 10:23amExpires: June 4, 2020 at 5:00amTarget Area: Calhoun; Richland
Flood Warning
...the Flood Warning Continues For The Following Rivers In South Carolina... Congaree River At Carolina Eastman Affecting Calhoun...lexington And Richland Counties Congaree River At Congaree National Park-gadsden Affecting Calhoun And Richland Counties ...Read More.
Effective: May 30, 2020 at 10:23amExpires: June 4, 2020 at 2:00pmTarget Area: Fairfield; Kershaw; Lancaster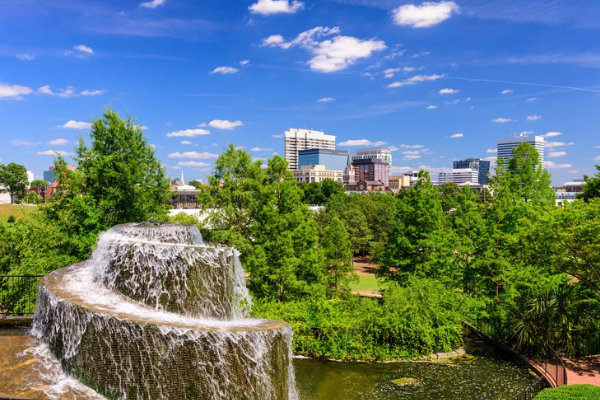 South Carolina Frequent Weather Alerts:
Severe thunderstorms, tropical storms, hurricanes, tornadoes, floods
South Carolina has several instances of severe weather, and when it doesn't it mostly has hot summers and relatively warm winters. Heavy rainfall appears in the state throughout the year, mostly due to tropical cyclones and large thunderstorms.
Tropical cyclones, which often form in the Atlantic Ocean, will move up the coast and often bring heavy rain to South Carolina. This can happen from August to October, and the cyclones can easily become hurricanes. The hurricanes can come ashore and batter the coastline with floods, damaging winds, and heavy rainfall.
Hurricanes are the most dangerous forms of severe weather for those in South Carolina, with many hurricanes and tropical storms moving up the coastline or even inland, blanketing the entire state in storms and high winds.
Thunderstorms are also very common across the state, with averages being around 64 thunderstorm days in a year. Tornadoes can also happen, most of them around the lower levels of strength and there is an average of 14 in a year.
So South Carolina has a bit of everything in terms of weather, but it also boasts a good temperature range depending on where you live in the state. If you stay connected to the weather alert forecasts and prepare for the hurricane season it can be a really nice place to live.
Complete Inc. is a licensed general contracting, construction consulting, and insurance appraisal/umpire claims firm