Flood Warning
South Dakota
State Weather Alerts
Flood Warning
The National Weather Service In Sioux Falls Has Issued A * Flood Warning For... Southwestern Kingsbury County In East Central South Dakota... Southeastern Beadle County In East Central South Dakota... * Until 200 Am Cdt Saturday. * At 159 Pm Cdt, Doppler Radar Indicated Heavy Rain Last Night That ...Read More.
Effective: June 26, 2020 at 1:02pmExpires: June 27, 2020 at 1:00amTarget Area: Beadle
Flood Warning
The National Weather Service In Sioux Falls Has Issued A * Flood Warning For... Southwestern Kingsbury County In East Central South Dakota... Southeastern Beadle County In East Central South Dakota... * Until 200 Am Cdt Saturday. * At 159 Pm Cdt, Doppler Radar Indicated Heavy Rain Last Night That ...Read More.
Effective: June 26, 2020 at 8:33amExpires: June 27, 2020 at 12:33pmTarget Area: Kingsbury
Flood Warning
...the Flood Warning Continues For The Following Rivers In South Dakota... James River At Huron James River Near Forestburg James River At Mitchell .the Following River Forecasts Include Forecast Precipitation Through ...Read More.
Effective: June 26, 2020 at 8:33amExpires: June 27, 2020 at 12:33pmTarget Area: Beadle
Flood Warning
...the Flood Warning Continues For The Following Rivers In South Dakota... James River At Huron James River Near Forestburg James River At Mitchell .the Following River Forecasts Include Forecast Precipitation Through ...Read More.
Effective: June 26, 2020 at 8:33amExpires: June 27, 2020 at 12:33pmTarget Area: Davison; Hanson
Flood Warning
...the Flood Warning Continues For The Following Rivers In South Dakota... James River At Huron James River Near Forestburg James River At Mitchell .the Following River Forecasts Include Forecast Precipitation Through ...Read More.
Effective: June 26, 2020 at 8:33amExpires: June 27, 2020 at 12:33pmTarget Area: Sanborn
Flood Warning
...the Flood Warning Continues For The Following Rivers In South Dakota... James River At Columbia James River Near Stratford James River At Ashton .the Following River Forecasts Include Forecast Precipitation Through ...Read More.
Effective: June 22, 2020 at 8:33amExpires: June 29, 2020 at 2:32pmTarget Area: Brown
Flood Warning
...the Flood Warning Continues For The Following Rivers In South Dakota... James River At Columbia James River Near Stratford James River At Ashton .the Following River Forecasts Include Forecast Precipitation Through ...Read More.
Effective: June 22, 2020 at 8:33amExpires: June 29, 2020 at 2:32pmTarget Area: Brown; Spink
Flood Warning
...the Flood Warning Continues For The Following Rivers In South Dakota... James River At Columbia James River Near Stratford James River At Ashton .the Following River Forecasts Include Forecast Precipitation Through ...Read More.
Effective: June 22, 2020 at 8:33amExpires: June 29, 2020 at 2:32pmTarget Area: Spink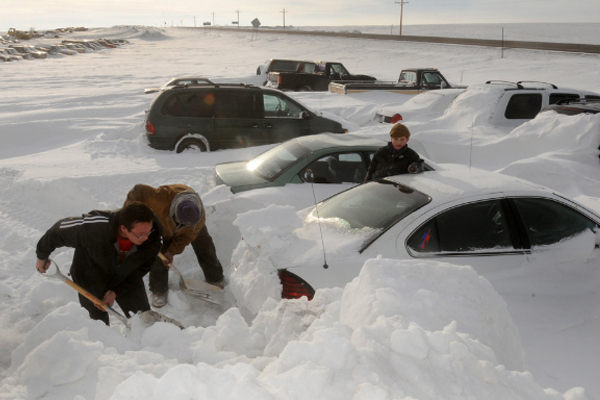 South Dakota Frequent Weather Alerts:
Drought, Severe Thunderstorms, Flooding, Winter Weather
South Dakota is one of the least populated states in the country, and due to its size, it has some of the swingiest weather patterns you can find in the entire country. As a result, both excessive precipitation and not enough precipitation cause problems for the state at different times.
Flooding and Thunderstorms
When it starts to warm up as winter ends, the snow in the mountains starts to melt and it can cause flooding in the foothills below. In 2010, there was over 2 feet of snow in the mountains, and when it melted in March, it caused severe flooding throughout the eastern part of the state.
From May to September, severe thunderstorms can be quite a common occurrence. The worst thunderstorms will often bring hail and, in some cases, tornadoes (not as frequently as the Tornado Alley states, however).
Drought
Certain parts of the state are drier than others, and increasing temperatures are causing droughts to become more frequent. In 2012, the state got less than 3 inches of rain during the summer (when the average per year is usually 15 to 25).
Complete Inc. is a licensed general contracting, construction consulting, and insurance appraisal/umpire claims firm